By Cathy Moore
Do stakeholders want to add text to your materials? Here's one study you can use to show how wordiness can hurt learning.
The study compared three lessons about the same weather process. All lessons used the same illustrations but varied in the number of words.
The lesson with the fewest words resulted in the most learning.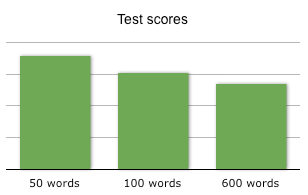 Read the original publication (PDF) from the Journal of Educational Psychology, or see the summary on pp. 109-115 of Efficiency in Learning by Ruth Clark, Frank Nguyen, and John Sweller.
---
Scenario design toolkit now available
Design challenging scenarios your learners love
Get the insight you need from the subject matter expert
Create mini-scenarios and branching scenarios for any format (live or elearning)
It's not just another course!
Self-paced toolkit, no scheduling hassles
Interactive decision tools you'll use on your job
Far more in depth than a live course -- let's really geek out on scenarios!
Use it to make decisions for any project, with lifetime access
CHECK IT OUT