Do you want a checklist you can use to evaluate your learning design? Here's my contribution (PDF).
I'm calling it a checklist because several people have asked for one, but it's not really a checklist. Instead of checking a box to say, "Yup, got that covered!" you choose a spot on a spectrum between "action-oriented materials" and "information dump."
There are 14 items to evaluate. Once you've rated them all, you can glance down the "spectrum" column to see which items are closest to the dreaded "information dump" and therefore need the most work.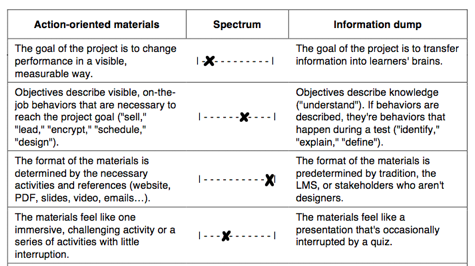 This range-finding approach acknowledges that we're all facing forces that push us toward information dumps. My goal is to suggest specific items to assess and discuss as we move stakeholders closer to the "action-oriented" side of the chart.
The tool can also be used to clarify what I intend to be the end result of action mapping. For example, if a client asks for an "action mapped" course, show them the chart. If they say, "Yes, I want everything on the left side of the chart," then they understand the goal of action mapping and will probably buy in to the design process.
---
Learn more
Design training that matters
My book
Map It
helps you turn training requests into projects that make a real difference. With humor and lots of examples, Map It walks you through
action mapping
, a visual approach to needs analysis and training design used by organizations around the world.
Create challenging scenarios
Want to help people change what they
do
, not just what they know? Give them realistic practice with scenarios. Learn how in my four-week
scenario design online course
. You'll have hands-on practice, lively online sessions, and my personal feedback.