By Cathy Moore
Here's a common question:
All employees have to know how to use our software. Why isn't that a good enough goal for instructional design? Why should I go through action mapping?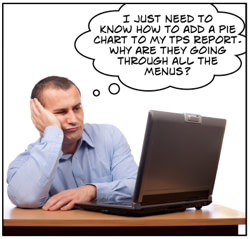 My answer: If you don't identify what people actually do with the software and design your training around that, you could create an information dump that helps no one and can't justify its own existence.
Identify what they need to do, not what they need to know
People use software to do things. If you know what those things are, you can design easily updated job aids or online help for the most common tasks. Then your elearning, if it's necessary at all, can use realistic scenarios to give learners a safe place to practice using the job aids.
Photo: (c) iStockPhoto
---
Scenario design toolkit now available
Design challenging scenarios your learners love
Get the insight you need from the subject matter expert
Create mini-scenarios and branching scenarios for any format (live or elearning)
It's not just another course!
Self-paced toolkit, no scheduling hassles
Interactive decision tools you'll use on your job
Far more in depth than a live course -- let's really geek out on scenarios!
Use it to make decisions for any project, with lifetime access
CHECK IT OUT