By Cathy Moore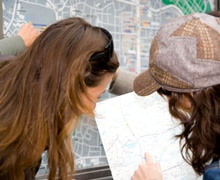 I climbed onto the tram, folded my ticket, and with some trepidation stuck it into an unmarked metal box. A happy ding announced my success. I did it! I correctly rode a tram in Amsterdam!
Small victories like these make me love to travel. Every day I move from clueless to confident as I tackle questions like, "How do I peel and eat this hardboiled egg using only this tiny spoon?"
I find the answers through experimentation and observation—there's no one telling me what to do at every step. And as a result I love the learning I've done and want to learn more.
How can we help our learners feel the same sense of achievement?
1. Let them figure some of it out
Often, we tell our learners everything they need to know, and then test them on it.
"Here's the correct way to present our product to a cost-conscious prospect," we say. "Now answer these simple multiple-choice questions to prove that you've been conscious for the last five minutes."
Instead, we can give the learner a few pointers and then put them in a realistic, challenging scenario.
For example, we could have an experienced salesperson offer some recommendations for dealing with cost-conscious prospects. Then we could put the learner at a fictional lunch table next to a penny-pinching but valuable prospect.
A branching scenario lets the learner try various approaches. The prospect's reactions and a sale progress bar show the learner if they're moving toward a sale, and if necessary, feedback provides more pointers. And through it all, the learner knows that the prospect could get up and walk away.
2. Let them risk failure
Without the risk of failure, success doesn't mean much. And our failures are memorable teachers.
If someone had told me before I went to Barcelona, "Don't touch the produce," I would have been spared one of my more memorable lessons, helpfully provided by a horrified shop owner.
Importantly, my lesson also reinforced a bigger, more useful rule: "Watch the locals before acting." I made a mistake that proves the usefulness of the rule, so I'm more likely to follow the rule in the future.
A realistic scenario lets learners make the kinds of mistakes that prove the rule. The trick is to make sure learners don't get frustrated or discouraged. One way is to offer optional, context-sensitive help.
3. To help, show instead of telling
My travel mantra is "Follow the locals." If most of the locals turn left when they get off the train, I'll turn left. In the same way, we can use models to guide learners to the right decisions.
For example, if the learner in our scenario makes a common mistake by criticizing our competitor's product, we could have the sales progress bar show that the learner has lost ground. Then we could have a (real or fictional) experienced salesperson show in a flashback how they avoided that mistake with a similar prospect.
If the learner follows the model's example, they get closer to the sale. If they continue to bash the competitor, the prospect walks. This is far more effective than simply telling learners, "Don't criticize our competitors," although we'll want to include that point in a summary of the scenario.
4. Have them use real-world job aids
Another way to help learners succeed is to give them the job aids that they'll have in real life. Every tourist needs a map, and every staff member needs a guide for a complex procedure, or a list of pointers to prepare for a challenge.
For example, the tips that we give the learner before their lunch with the prospect could be provided as the real "cheat sheet" that our sales people use in the field to prepare for challenging situations. This makes the scenario more realistic and encourages learners to continue using the aid in the real world.
No fancy software required
This kind of scenario could be produced using photos and a rapid development tool that supports branching. If your tool can't keep track of a variable (the sales progress bar), you could instead display a simple positive, neutral, or negative indicator to show the learner how their decision has affected the likelihood of a sale.
---
Scenario design toolkit now available
Design challenging scenarios your learners love
Get the insight you need from the subject matter expert
Create mini-scenarios and branching scenarios for any format (live or elearning)
It's not just another course!
Self-paced toolkit, no scheduling hassles
Interactive decision tools you'll use on your job
Far more in depth than a live course -- let's really geek out on scenarios!
Use it to make decisions for any project, with lifetime access
CHECK IT OUT