By Cathy Moore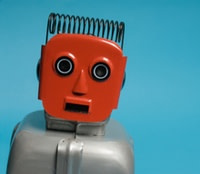 "We shouldn't use contractions because then people won't take the content seriously." Sound familiar?
Or maybe you've heard this: "We shouldn't use contractions because they're confusing for people who speak English as a second language."
The result of these beliefs can be robotic chanting like the paragraph that you are reading now. I will not use contractions as I say that sometimes we become obsessed with details of grammar that are not actually useful, and as a result of this obsession we do not see the big picture. We are too busy enforcing small rules that do not help the learner, so we do not realize that our learner is thinking, "I will leave this course now because this text I am reading did not come from a human being."
"They won't take it seriously!"
Here's what Ruth Clark and Richard Mayer have to say about "conversational" style in e-Learning and the Science of Instruction:
"Research on discourse processing shows that people work harder to understand material when they feel they are in a conversation with a partner rather than simply receiving information."
Clark and Mayer dispute claims that the content must sound stiff and serious for learners to take it seriously. They go on to cite studies that showed that saying "you" improved learning, as did using a human narrator instead of a machine-simulated one and adding a friendly helper in the form of Herman the Bug.
I like to think that it's safe to extend Clark and Mayer's "personalization principle" to contractions, because people and bugs named Herman use contractions, though I'm not aware of research specifically on contractions in elearning. But if our goal is to sound like a human being, contractions definitely help, especially in an audio script.
Even the US Federal Plain Language Guidelines tell us to use contractions when appropriate: "Contractions make your writing more accessible to the reader. Research shows that that they also enhance readability."
"Contractions confuse people who speak English as a second language."
Some people worry that learners who speak English as a second language have trouble understanding contractions. I've tutored many new English speakers, and contractions are one of the first things they learn to understand. They might not use contractions themselves for awhile, but they understand them.
The trick is to know your learners. If they rarely use English at work, then yes, they would benefit from extremely simple language (or, better, materials in their language).
However, if you expect your learners to know enough English to read your advanced text about cross-border pharmaceutical regulations, then there's no reason to worry about contractions. If a simple "don't" stumps your learner, they won't understand the rest of the course, either.
"Contractions interfere with automatic translation."
Some people also say that contractions mess up machine translation. I'm not sure where this belief comes from. Even the free, feeble Google translator understood and translated this: "If you don't know how to read, you might have trouble using an online course." It was also fine with sentences using "doesn't," "couldn't," "hasn't," "we're," and "we'll," and then my short attention span kicked in, but I'm confident that other common contractions survive translation as well.
Image ©iStockPhoto | hundreddays
---
Scenario design toolkit now available
Design challenging scenarios your learners love
Get the insight you need from the subject matter expert
Create mini-scenarios and branching scenarios for any format (live or elearning)
It's not just another course!
Self-paced toolkit, no scheduling hassles
Interactive decision tools you'll use on your job
Far more in depth than a live course -- let's really geek out on scenarios!
Use it to make decisions for any project, with lifetime access
CHECK IT OUT