Do stakeholders want to add text to your materials? Here's one study you can use to show how wordiness can hurt learning.
The study compared three lessons about the same weather process. All lessons used the same illustrations but varied in the number of words.
The lesson with the fewest words resulted in the most learning.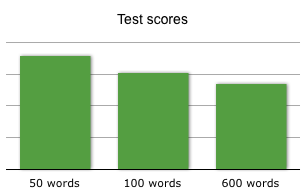 Read the original publication (PDF) from the Journal of Educational Psychology, or see the summary on pp. 109-115 of Efficiency in Learning by Ruth Clark, Frank Nguyen, and John Sweller.
---
Learn more
Design training that matters
My book
Map It
helps you turn training requests into projects that make a real difference. With humor and lots of examples, Map It walks you through
action mapping
, a visual approach to needs analysis and training design used by organizations around the world.
Create challenging scenarios
Want to help people change what they
do
, not just what they know? Give them realistic practice with scenarios. Learn how in my four-week
scenario design online course
. You'll have hands-on practice, lively online sessions, and my personal feedback.