Do stakeholders want to add text to your materials? Here's one study you can use to show how wordiness can hurt learning.
The study compared three lessons about the same weather process. All lessons used the same illustrations but varied in the number of words.
The lesson with the fewest words resulted in the most learning.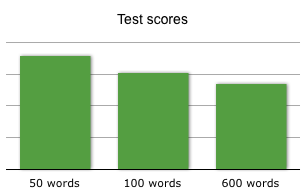 Read the original publication (PDF) from the Journal of Educational Psychology, or see the summary on pp. 109-115 of Efficiency in Learning by Ruth Clark, Frank Nguyen, and John Sweller.