By Cathy Moore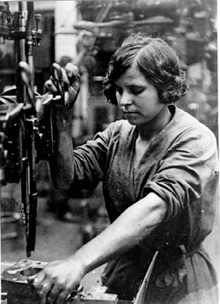 Do you feel like you're an assembly line worker in a course factory, expected to crank out training on demand?
Break free of the assembly line with a strong kickoff meeting that puts you in charge of the design. Here are some ideas on how to start a project in a way that will avoid an information dump and win the happy obedience of your stakeholders.
What's the first step?
The next time someone drops a pile of PowerPoints in your in box and requests "a course," respond with a request for a meeting "to make sure I understand what you need." Two hours is usually enough.
Who should be included in the meeting?
The minimum participants are you (the designer), the person who asked for the training (the "client"), and one or preferably two subject matter experts (SMEs) who are familiar with how the job is currently done.
Depending on the situation, you might also want to include someone who recently learned to do what's about to be trained and any stakeholder who could veto the project.
What's the format?
I recommend you use action mapping, so a whiteboard or a laptop with mind-mapping software and a projector will be helpful. I've done these meetings remotely, with a shared screen on a webinar platform, but in person I'd prefer a whiteboard and sticky notes.
What's the goal for the meeting?
Your secret goal for the meeting is to confirm that training really should be part of the solution, and if so, to avoid creating an information dump.
The reason you give to the participants is something like, "To design the most effective training, I need to understand the problem really well." Put yourself in the role of the eager yet ignorant outsider and don't directly challenge the client's assumption that a course is the solution.
How do I start the meeting?
Give a very quick overview of the process, maybe saying something like the following.
We'll use a quick process that helps me understand in detail what you need people to do, so I can design relevant and challenging activities.
We'll start by stating a measurable goal so we'll know when the training has worked.
Then we'll specify what exactly people need to do to reach that goal and why they're not doing it, so we can find the best way to change their behavior.
The result will be interesting, relevant training that will clearly contribute to the organization's goals [if possible, add or suggest "and make us look good"].
It might be best not to mention the content at all beyond saying that you've reviewed what you've been given and need to understand the situation better before you can start designing the "course."
Then what?
With all the meeting participants, follow the first steps of action mapping, which have been expanded a bit in the last year.
Identify a goal that captures in a measurable way why the training is important to the organization ("Improve employee retention 15% by Q2 of next year," not "Respect diversity").
Expand the goal to identify the audience and give a general idea of what they'll be doing ("Employee retention will improve 15% by Q2 of next year as mid-level managers follow the new policy on diversity").
Identify specifically and concretely each action that members of the audience need to take to reach the goal (e.g., "Avoid assigning minority employees only to minority clients," not "Be color-blind").
Prioritize the actions — identify the most egregious problems.
Use the flowchart to identify why each important action isn't always performed correctly, and gently resist stakeholders' attempts to blame everything on a lack of knowledge.
Be sure to go through the flowchart
This flowchart can dramatically change how stakeholders view the problem and its solution. The more specifically you apply the flowchart, the better your results.
For example, don't say, "So why do you think managers aren't respecting diversity?" Instead, focus on each individual action, for example, "Why aren't managers disciplining people for making offensive jokes?"
If stakeholders blame a problem solely on a lack of knowledge, gently push back. For example: "Okay, you're saying managers just don't know that they should discipline people for making offensive jokes. I'm wondering if there's something more complex here, like maybe the managers know they're supposed to discipline people but aren't comfortable providing the discipline. Do you think that might be happening?"
The stakeholders will likely agree and might propose ways to solve that problem. If they don't come up with their own solutions, you might suggest one, again posing it as a question: "Do you think it could help to give them some sample wording to use for typical situations and let them practice?"
Let the stakeholders see the best solution for themselves
Questions are far more persuasive than advice. Keep asking questions until the client or SME sees for themselves that an info-dumping "course" isn't the best solution. Let them see how job aids or a change in tools could solve the problem without training, and let them notice on their own that a lot of the content they provided isn't necessary.
You're saying we can do all this in just two hours?!
You can get a very good head start in just two hours. I can usually get through setting the goal, identifying the most problematic actions, and identifying why those actions aren't being performed correctly.
You may need to work a bit after the meeting with a SME to finish analyzing the problem. However, brainstorming activities and identifying which content to include aren't part of the kickoff –they're your job.
You might want to include a SME later when brainstorming activities, but make sure to keep tight control so the activities are realistic and challenging and the content is as minimal as it can get.
How can I justify the time required?
If you get resistance to the idea of a two-hour meeting, point out that it will likely result in much more concise, efficient training.
For example, a course that the client expected would require four hours for the 1,200 learners to complete might be reduced to some powerful job aids and one hour of very targeted activities. This saves three hours x 1,200 learners or 3,600 hours, thanks to the two hours invested in the kickoff meeting.
Practice with this toolkit
In the Partner from the Start toolkit, you'll practice with a fictional client, Carla. She wants an online course for managers. The course is supposed to teach them how to use a personality inventory to "become more empathetic."
You could just create the course. But if you spend a few minutes learning more about Carla, you discover that going ahead with this idea would damage an important relationship. You'd also waste everyone's time with a dubious personality test.
And is "be more empathetic" really the solution? What's the actual problem?
Your challenge is to help Carla see all of this for herself. Through branching scenarios and other activities, you'll decide what to say to Carla and see the consequences, building your consulting skills and confidence.
---
Scenario design toolkit now available
Design challenging scenarios your learners love
Get the insight you need from the subject matter expert
Create mini-scenarios and branching scenarios for any format (live or elearning)
It's not just another course!
Self-paced toolkit, no scheduling hassles
Interactive decision tools you'll use on your job
Far more in depth than a live course -- let's really geek out on scenarios!
Use it to make decisions for any project, with lifetime access
CHECK IT OUT