By Cathy Moore
Often we're told, "Put this information into a course." But what happens if we put the information into a job aid instead, and then design mini-scenarios that help learners use the job aid?
This approach not only keeps boring blather out of our elearning, it can also make our activities more memorable. Here's how it could work.
Elearning example
Let's say we're designing training about needle safety for a hospital. A common approach would be to display some slides of information about dos and don'ts, and then to present a generic fact check, like, "What's the best way to dispose of a used needle?"
Instead, we'll plunge our learners directly into an activity that somewhat simulates real life and that includes real-life job aids. So here's the first thing learners see.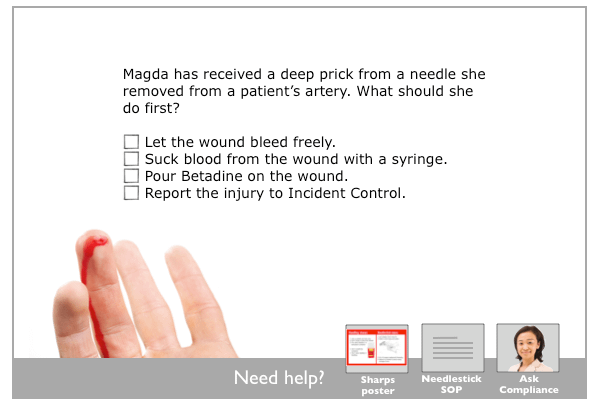 We're tempting the learner to respond without thinking, but we've also given them access to more information. For example, the learner could click the first thumbnail to see the safety poster that appears in every examining room and that explains what to do with a needlestick injury.
But our sample learner thinks, "Everyone knows you pour Betadine on that kind of wound," and they choose that without looking at any other information.
Here's the feedback we give them.
The feedback describes the results of the learner's choice, letting the learner conclude that they were wrong. It also includes a snippet of the safety poster, pointing out where the learner should have looked. The learner sees for themselves that they not only skipped a step, they also used the wrong washing method.
Why did we do this?
Even though the safety poster appears in every room, we suspect that people aren't looking at it, because they're making basic mistakes with needles. So our course not only corrects the common mistakes but repeatedly reminds learners of the job aids they should be using.
And, importantly, this approach lets us surprise learners with their own mistakes. If we first listed a bunch of rules, including "Wash needlestick injuries with soap and water," the learner might be mildly surprised, thinking, "What, not Betadine?" But by letting the learner give Magda Hepatitis C, we've surprised them more vividly and, ideally, will help them remember their mistake the next time they accidentally jab themselves.
This is a very simple demonstration of how we can have learners practice using job aids. For more complex procedures, we could have learners refer to the job aid as they carry out each step, showing the results of each decision in a realistic way.
---
Scenario design toolkit now available
Design challenging scenarios your learners love
Get the insight you need from the subject matter expert
Create mini-scenarios and branching scenarios for any format (live or elearning)
It's not just another course!
Self-paced toolkit, no scheduling hassles
Interactive decision tools you'll use on your job
Far more in depth than a live course -- let's really geek out on scenarios!
Use it to make decisions for any project, with lifetime access
CHECK IT OUT