By Cathy Moore
It's easy and tempting to write activities that test whether learners know something. How can we make learners use their knowledge as well?
You might be familiar with Bloom's Taxonomy. Its current form identifies six categories of intellectual performance, from remembering to creating.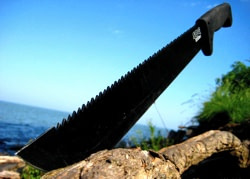 To make the taxonomy easier to apply, I grabbed my Unsubtle Machete of Oversimplification and in a few whacks reduced the categories to just two:
Know activities ask learners to retrieve and maybe categorize or explain information.
Use activities ask learners to apply information to realistic situations.
Often, a "use" activity includes a test of whether the learner "knows" something — you get two activities in one!
Example
Your learners create widgets. To speak with their coworkers, they need to know some technical terms. One term is "transmogrification," which means modifying a widget so it will work at high altitudes. What can we do to help learners master this term and the related concept?
Know activity: Drag the term to its definition — drag "transmogrify" to "modify a widget so it will function at high altitudes"
Use activity:
Your client wants to use their widget at 2800 meters above sea level. What modification do you need to make to the widget?

a. Transmogrify it

b. Redorbinate it

c. Neoplyordinize it

d. No modification needed
The "use" activity tests whether the learner can apply their knowledge of transmogrification in a realistic situation, not in an abstract definition activity. At the same time, it answers three "know" questions for us. It tells us whether the learner knows that:
2800 meters is officially "high altitude"
You need to modify widgets for high altitudes
The necessary modification is called "transmogrification"
Of course, if these bits of information are crucial or frequently misunderstood, we'll want to have more questions or activities to reinforce them. Also, our feedback goes beyond "correct" or "incorrect" to show the consequences of the learner's choice and reinforce stuff some more.
If you write strong "use" activities, you don't need to write "know" fact checks at all.
Have I been too brutal to Bloom? Our focus here is on corporate training, where the goal is usually immediate application in complex situations. I'm not convinced that we need to minutely examine whether our activity requires "analyzing" or "evaluating." By simulating complex, real-world situations, we can't help but cover several Bloom categories.
I've also seen Bloom interpreted as "Write learning objectives using terms like 'define,' 'identify,' and 'compare,'" which tends to inspire abstract thought-juggling activities and not real-world applications. For a rant about objectives, see Why you want to focus on actions, not learning objectives.
Photo by SOGKnives
---
Scenario design toolkit now available
Design challenging scenarios your learners love
Get the insight you need from the subject matter expert
Create mini-scenarios and branching scenarios for any format (live or elearning)
It's not just another course!
Self-paced toolkit, no scheduling hassles
Interactive decision tools you'll use on your job
Far more in depth than a live course -- let's really geek out on scenarios!
Use it to make decisions for any project, with lifetime access
CHECK IT OUT