By Cathy Moore
Be sure to read this paragraph. It tells you that in this post, you'll learn how to manage stakeholders who want to treat learners like idiots. If you have trouble reading the paragraph, click the speaker icon located in the bottom right-hand corner of this screen and a professional narrator will read the text to you in a soothing voice that slides like oil over any functioning brain cells and gently smothers them.
Now read the next paragraph.
"Assume intelligence," Jerry Weissman tells us in Presentations in Action
. "Your audience has been there, done that, and they get it."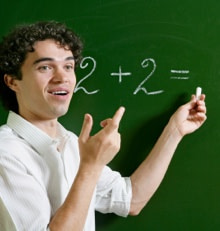 Contrast Weissman's advice with what your stakeholders might be telling you, or what a small voice might be saying in your head.
"We should tell them how to navigate the course."
"We should define 'safety' to make sure everyone knows what we mean."
"We should explain that they're about to be shown a story in which a character will have to make a decision, and they're going to make the decision for that character."
We're all adults here
If you're designing for the corporate world, which is what I focus on in this blog, your learners have decades of experience figuring out what buttons do, reading text on a screen, and interpreting what's happening to them as it happens.
Unfortunately, stakeholders might focus on the possible exception, the one person who can't figure out that a button pointing to the right will move them forward and who will sit staring at the first screen until the lights get turned off.
A common solution is to provide optional help: a tab called "How to navigate this course," links to definitions, and optional popup explanations like, "This is a fictional activity. You will pretend to be a person who is facing a challenge…"
A sign of a deeper problem
Unfortunately, stakeholders or small voices saying that you need to guide learners by the nose are symptoms of a deeper issue that can poison your materials, regardless of your optional help tabs.
Thanks to our experience in school, when we're put in a "teaching" role, we make these assumptions:
Learners know nothing. Our job is to insert knowledge into their brains without considering any knowledge that might already be there.
Learners can't be trusted. They can't be allowed to skip what they already know, and they must be told explicitly what's right and wrong because they can't draw conclusions from experience or stories.
These assumptions deny the adulthood of our learners. When these assumptions shape instruction, we create boring materials that sound like a patronizing parent.
Under the weight of such disrespect, any motivation the learners might have had squirms briefly and dies.
What to do
Remind stakeholders that learners are adults: Send them to the excellent rebuttals that Geeta Bose provides in IDiot: "I'm not an idiot!"
Get everyone on your team to agree that you're designing an experience, not information. Visit the linked page to find posts that will help you design so your learners learn from experience.
Let learners place out. Start with simulations or scenarios that require learners to make the kinds of decisions they need to make in real life. If a learner proves that they can consistently make the right decisions, let them go.
Show, don't tell. When a learner makes a poor decision, use the feedback to show them the results of their decision so they can conclude on their own that what they did was sub-optimal. Then, if necessary, show them what they need to know — or, better, put them in an easier scenario with more help and ratchet up the difficulty more slowly.
---
Scenario design toolkit now available
Design challenging scenarios your learners love
Get the insight you need from the subject matter expert
Create mini-scenarios and branching scenarios for any format (live or elearning)
It's not just another course!
Self-paced toolkit, no scheduling hassles
Interactive decision tools you'll use on your job
Far more in depth than a live course -- let's really geek out on scenarios!
Use it to make decisions for any project, with lifetime access
CHECK IT OUT