By Cathy Moore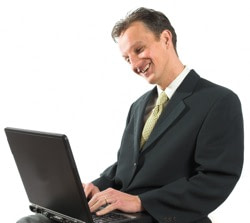 "Welcome to the course Online Responsibility," a too-perfect male voice intones while you stare at a stock photo of a man who's grinning idiotically at a computer.
"Billions of bits of data travel through our firm every day," the voice drones on while the stock photo changes to science-fictiony swirling lines and numbers. "Since the dawn of the digital age, electronic communication has…"
You lunge for the Next button, but you're not allowed to click it until the droning man finishes, which he finally does while you're in another browser tab, watching a video of a cat playing the piano.
I've seen a ton of elearning, and the painful majority of it starts this way. What are some alternatives?
1. Use a meaningful course name and skip the explanation.
If the title of the course is "Data Privacy," then you can trust learners to understand that it concerns keeping data private. A meaningful title frees you from having to ponderously explain what the course is about.
2. Nix the narrator.
In corporate L&D, our learners are adults who can read for themselves, and they do it a heck of a lot faster than a narrator talks. Nothing squashes my interest in a subject more thoroughly than having the material spoon-fed to me by a slow speaker who apparently thinks I'm dense. In my sacrilegious opinion, the best use for a narrator is to talk about a graphic that isn't already self-explanatory, not to deliver information that could be more concisely and quickly delivered through text. Here's some research to support this. (And our main goal should be to design experiences, not information.)
3. Immediately show concise, appealing objectives.
Briefly tell the learner what they'll be able to do as a result of the course, and focus on what they care about. Here's a sample makeover of some boring objectives.
4. Motivate by showing, not telling.
Normally, your objectives should be motivating enough. If you think your learners need even more motivation, avoid the temptation to present statistics or to otherwise tell them why the topic is important. Show them through a story.
For example, you could (quickly!) show a young couple with a baby being turned down for a mortgage because one of our employees accidentally released their private data, which a bad guy used to get credit cards and destroy their credit history. For more on using stories to motivate, see Made to Stick.
5. Put basic information in activities, not a presentation, and let people prove that they already know it.
If you want to make sure everyone has the same basic knowledge before continuing, design activities that let people either prove they know the basics or discover the basics through feedback.
For example, in my scenario design course, I want everyone to have the same definition of "scenario." However, I don't show the definition at the start. Instead, I just say, "Let's see if you can identify what I think a scenario is." I then show several examples and non-examples and ask for each one, "Is this a scenario?" In the feedback I explain why the example fits or doesn't fit my definition of "scenario."
This starts the material with an activity, rather than a presentation, and I suspect it makes the definition more clear than a text blurb would have. It also lets people who already know the definition skip ahead by skipping the detailed feedback once they've confirmed that they made the right choice.


---
Scenario design toolkit now available
Design challenging scenarios your learners love
Get the insight you need from the subject matter expert
Create mini-scenarios and branching scenarios for any format (live or elearning)
It's not just another course!
Self-paced toolkit, no scheduling hassles
Interactive decision tools you'll use on your job
Far more in depth than a live course -- let's really geek out on scenarios!
Use it to make decisions for any project, with lifetime access
CHECK IT OUT