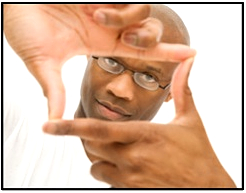 This live, online course will help you create thought-provoking scenarios that clients and learners love. No more information dumps!
This workshop isn't available at the moment — I'm busy working on self-paced versions of the material. Sign up to be notified when the materials are available or the next public workshop is scheduled.
Your scenarios will not only engage learners but challenge them. You'll help them change what they do on the job.
You'll learn by doing over four weeks:
Immediately apply what you're learning to a project on your job
Follow a step-by-step process with downloadable worksheets
Each week, join the lively 1.5-hour online session, where group discussion and activities will challenge you and help you practice new skills
Build your skills with more online activities on your own, including branching scenarios that help you practice talking with your stakeholders
Complete several hours of homework—apply each step to your real-world project
Get private feedback from Cathy on your project during the course
Get inspired by trying sample scenarios
Download the included Map It book (PDF) for a detailed walk-through of action mapping
Review session recordings and self-paced materials for a year
Continue to discuss scenario design long after the course in a private LinkedIn group
You'll learn to create mini-scenarios and branching scenarios for self-paced elearning, face-to-face training, virtual sessions, and any other format you can think of. The course will take you from defining and analyzing the performance problem to creating a prototype activity.

Is this for you?
If you design training for adults in the business world, this course is for you. If you work in education, the course probably won't apply to you (why not?).
You'll need a project to work on and access to a subject matter expert (SME) for that project. Your prework will include a calendar that will help you schedule meetings with your SME. (What type of project works best?)
What you'll do
Plan for strong activities
Identify a change in business performance that your project will help create
Analyze the performance problem and identify where scenarios can help
Win the happy participation of subject matter experts (SMEs)
Analyze the on-the-job decisions so you can write challenging, targeted scenarios
Identify which type of scenario will work best
Write challenging scenario questions
Include the complexities of the real world
Write subtle options that make people think
Create feedback that helps learners build mental models that they'll transfer to the job
Identify which information to include and how to include it
Use scaffolding and other guidance to provide the right amount of challenge
Structure your project so people are immediately engaged and challenged
Create a prototype activity to test on learners and win approval from stakeholders
Plan a branching scenario
Identify the best idea for a branching scenario
Write and prototype a typical decision point
Plot the scenario and test it on your audience
Draft challenging debrief questions to help people transfer their learning to the job
Choose formats and evaluate the project
Consider ways to provide scenarios on demand rather than in formal training events
Choose the most effective media for your needs and budget
Plan to evaluate and improve your project using changes in your performance goal and interviews with learners
Design, not tools: We'll focus on design ideas that can be developed with a wide range of tools. No specific development software is required. Participants who plan to create a branching scenario will probably want to use a program like LucidChart or Twine to draft their plots.
Prototype: The course will bring you to the "prototype one activity" stage on this workflow. Once you've done the analysis and have created a prototype as described in this course, the rest of the process is straightforward.
Format:In the online sessions, we'll complete challenges as a group, such as rewriting a weak scenario question. I'll also ask for your ideas and opinions throughout the session, and you can ask questions at any time, so you can expect a lot of action in the chat.
The private course site includes self-paced activities that help you practice on a fictional project before you apply what you've learned to your own project. Your learning materials will include branching scenarios that will help you practice tricky conversations with your client, video walkthroughs of some design steps, and examples of activities to inspire you.
All course sessions are recorded for participants and are posted after the session on the private course site. Participants have access to the recordings and all other materials on the site for a year. If you'd like to share the recordings and other materials within your company, please contact me for a site license.
Discussion forum: Participants and graduates will have access to a private LinkedIn group for in-depth discussion about all aspects of scenario design.
You'll have homework!
This is a hands-on course. You need to choose a real-life project so you can apply what you're learning. If you work in education teaching students, this course probably won't apply to you.
You'll have about 4 hours of pre-work before the first online session and about 2 hours of work before each remaining session, for a total of about 10 hours of on-the-job application in addition to your 6 hours in class. Ideally, you'll work with your subject matter expert for at least some of that homework time.
When you register, you'll see a calendar that will help you schedule time with your project stakeholders. We'll discuss participants' homework at each session, and I'll be available over email for private questions and feedback. You'll also be able to share ideas with your classmates in comments on our private course site or in our LinkedIn group.
This workshop isn't available at the moment — I'm busy working on self-paced versions of the material. Sign up to be notified when the materials are available or the next public workshop is scheduled.
Requirements
Time required: The course meets online for four 90-minute sessions, for a total of 6 hours of instruction. Your pre-work and homework will add about 10 hours more. All sessions are recorded, so if you miss one session, you can quickly catch up with its recording.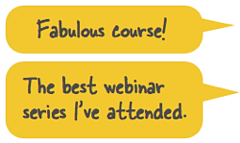 Equipment required: You'll need a fast internet connection. For audio you'll be able to phone in (many international numbers will be available) or connect with your computer.
We'll use Zoom for the classroom sessions. You don't have to pay Zoom anything, but you will need to download the app.
Course recordings are hosted on Vimeo, a video platform used by many businesses. It's rarely blocked by employers. If necessary, please ask for the site to be unblocked for your course.
Caffeine required? The chat window is very lively. The online sessions aren't presentations; they're more like discussions. I'll ask you questions throughout the session, and you'll share your responses in the chat window.
Discussion forum: The forum is a private discussion group on LinkedIn. You need to be a LinkedIn member (it's free) to participate in the forum. Discussion also takes place on the private course site, in comments to each page, which doesn't require LinkedIn.
Presenter
Your facilitator will be me, Cathy Moore. You can learn more about me here.