Do stakeholders want to add text to your materials? Here's one study you can use to show how wordiness can hurt learning.
The study compared three lessons about the same weather process. All lessons used the same illustrations but varied in the number of words.
The lesson with the fewest words resulted in the most learning.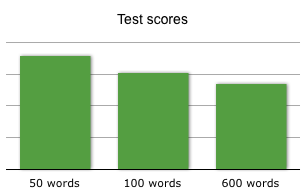 Read the original publication (PDF) from the Journal of Educational Psychology, or see the summary on pp. 109-115 of Efficiency in Learning by Ruth Clark, Frank Nguyen, and John Sweller.
---
Learn more
Build your performance consulting skills
with new tips and content for teams
Stop being an order taker and help your clients solve the real problem. The Partner from the Start toolkit helps you change how you talk to stakeholders, find the real causes of the problem, and determine what type of training (if any!) will help.
The toolkit has recently been expanded:
Many new examples as mini-practice activities (more than 50 total)
New tips for writing goals, actions, and analysis notes
For team leaders:

125 discussion questions — download the customizable PowerPoint deck
Tips for coaching new action mappers and embedding the practice in your organization
Sign up yourself or a team, with team discounts. Learn more.