By Cathy Moore
"Wait, we can't design the training that way, because Zeus will rain down fire as punishment!"
You might not hear that particular myth, but I'll bet you've heard many others. Here are the most popular myths I've heard from learning designers and their clients.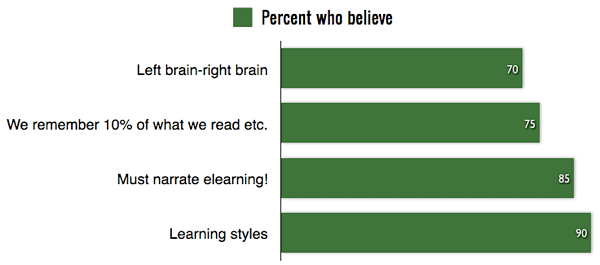 Oh, those numbers in the chart? They're just an estimate based on my experience. They're not real.
They're like the numbers that someone tacked onto a graphic created by Edgar Dale, magically turning it into a "scientific" and unfortunately misleading "truth" about how much we remember, as Will Thalheimer thoroughly shows.
Putting science-y numbers on concepts is just one part of a larger problem we face: We let unfounded beliefs influence us.
It's a cultural problem
Why do myths flourish in our supposedly science-based profession?
I like to use a flowchart to analyze performance problems. If we were to use the flowchart to answer "Why do training designers make decisions based on myths?" I think we'd find that the main problem is an environmental one:
We work in organizations that believe harmful myths. We're pressured to work as if the myths are true, and we can't or don't take the time we need to keep our knowledge up to date and combat the myths.
Stand up to the client
We need to change this cultural problem, and one of the first steps is to politely stand up to the client who believes in the impending punishment of Zeus. "I understand your concern," we might say. "Luckily, research shows that Zeus doesn't actually exist and has no opinion about our training." We back this up with a link to an easy-to-read summary of research showing the non-existence of Zeus.
For example, let's say we have a client who believes in learning styles.
"Learning styles are real," they say, "and we must design the training to accommodate them." This has been debunked repeatedly yet stubbornly lives on. It's one of the most common excuses for inflicting slow narration on elearning users. What can help us debunk this?
This PopSci article is a quick, entertaining read and could be a good one to send to the client.
Learning styles: Worth our time? links to two major debunking studies and highlights techniques that work better. It might appeal more to learning geeks.
Here's an excellent roundup of opinions from L&D luminaries, from Guy Wallace. It might help convince people who need to see that many experts argue against learning styles.
It's also helpful to dip into research compilations in our spare moments. For example, the extensive PDF report Learning to Think, Learning to Learn organizes research into specific, plain-English recommendations that are easy to read in short bursts. It's aimed at people who teach remedial courses but applies to all types of adult learning design.
For research specific to elearning, I always recommend e-Learning and the Science of Instruction: Proven Guidelines for Consumers and Designers of Multimedia Learning
by Ruth Clark and Richard Mayer.
Expose myths to the sun
Another way to weaken myths is to clearly state them, to bring them into the light and ask stakeholders, "Is this really true?"
For example, here are some beliefs that affect our ability to design effective training. What would happen if we had our stakeholders stop and consider whether they're actually true?
If there's a performance problem, training must be the solution.
Training is a one-time event or course.
Training means putting information into people's heads.
Our job is to make this information easy to understand and remember.
We should first tell people what they need to know, and then give them an activity so they can check their knowledge.
We shouldn't let learners make mistakes because that would demoralize them and they'll only remember the mistakes.
We shouldn't let people skip stuff they already know because they probably don't really know it.
We should measure learning with an assessment right after the training.
If we're designing elearning, it should look like a slide show. No one will learn from a normal web page with scrolling.
If we're designing elearning, we should have a narrator talk through the slides because no one will read.
I could go on (and on!) but you get the idea. A lot of assumptions drive what we do, and we need to clearly identify and question them before they steer us in the wrong direction.
What are the most damaging or stubborn myths that you've seen? Have you been able to fight them effectively? Let us know in the comments!
---
Scenario design toolkit now available
Design challenging scenarios your learners love
Get the insight you need from the subject matter expert
Create mini-scenarios and branching scenarios for any format (live or elearning)
It's not just another course!
Self-paced toolkit, no scheduling hassles
Interactive decision tools you'll use on your job
Far more in depth than a live course -- let's really geek out on scenarios!
Use it to make decisions for any project, with lifetime access
CHECK IT OUT