Happy action mapping users say that the model helps them create lively elearning. But would it fit into your design workflow?
Action mapping makes stakeholders work together to analyze the performance problem, commit to the same measurable goal, and agree to focus on activities rather than information. This can be a big change to the typical course development workflow.
Without action mapping
The client says, "I need a course."
You say, "Okay."
The client gives you a pile of content, the phone number of a subject matter expert (SME), and a deadline.
You create a detailed storyboard or script, getting information as necessary from the SME. The structure of the information determines the structure of the course.
The client and SME approve the script and you go into production.
The course is made available and your job is done.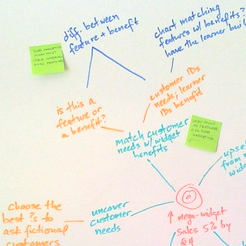 Using action mapping
The client says, "I need a course."
You say, "Great. Let's get together to make sure we all understand what you want the course to accomplish."
You schedule a two-hour meeting in a space with a whiteboard or in a virtual meeting room where you can share a mind-mapping screen. You include the client, at least one subject matter expert, and possibly others from the table below.
In that meeting, you identify your business goal and how you'll measure success. You also identify the behaviors needed to reach that goal.
As a group, you analyze why the behaviors aren't happening, confirm that training will actually solve the problem, and identify how the training will be supported by managers, workplace changes, and other improvements.
After the meeting, you work with the SME and possibly others to brainstorm and prototype practice activities for each behavior needed to reach the goal. Ideally, you test the prototypes on learners.
You get approval for the prototypes from the client.
You work with the SME and possibly others to identify the minimum information necessary to complete each activity and decide how it should be provided.
You create a storyboard or script. The content has already been identified in the action map; you're just filling in the details and arranging the material. The activities determine the organization of the course.
The client and SME approve the script and you go into production.
Once the material is being used by learners, you or the client begins measuring its impact, and you revise it as necessary.
The above list makes it look like action mapping takes longer, and it will take longer if you're not doing much analysis now. However, the rest of the process can actually go more quickly than conventional course design. You save time by:
Not creating a course when it isn't necessary or won't help
Addressing only the specific behaviors that need to change
Excluding unnecessary information
Taking advantage of easily updated job aids
Designing activities that test multiple areas of knowledge at once
Creating tightly focused materials that don't waste learners' time
Who should be included?
The table below lists the four steps of action mapping and identifies who you might consider including at each step. The first two steps can often be covered in one two-hour meeting, if the client and SME are familiar with the learners and the performance problem.
One of the goals in action mapping is to identify what information needs to be memorized (put in the course) and what can be referenced on the job (put in job aids). Often, existing job aids are created and "owned" by someone in a different department. That person might be your SME, or they might be someone else. They need to be included in some of your planning to make sure the job aid can be used as you want, to approve any changes to it, and to offer their ideas about incorporating it into practice activities.
Step
Client
SME
Job aid
owner
Learner
Graphics/Flash
person
1: Set goal
Yes
Yes
Maybe
No
No
2: Identify behaviors & why they're not happening
Yes
Yes
Maybe
No
No
3: Brainstorm practice activities
Approve prototypes
Help brainstorm or at least approve prototypes
Help brainstorm or at least approve use of job aid
Provide ideas, feedback on prototypes
Help create prototypes
4: Identify necessary info
No
Yes
Approve use of job aid or changes to it
Maybe, as tester
No
---
Learn more
Design training that matters
My book
Map It
helps you turn training requests into projects that make a real difference. With humor and lots of examples, Map It walks you through
action mapping
, a visual approach to needs analysis and training design used by organizations around the world.
Create challenging scenarios
Want to help people change what they
do
, not just what they know? Give them realistic practice with scenarios. Learn how in my four-week
scenario design online course
. You'll have hands-on practice, lively online sessions, and my personal feedback.