By Cathy Moore
"Upon examining the data," your scenario character says, "I have become increasingly uncomfortable with the proposal, specifically its requirement that we induce wombats to fly."
Who talks like that? No one in the real world. However, you might find your scenario characters talking like that in your first drafts. Here's how to fix it.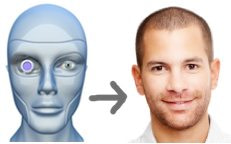 1. Make sure you've actually written dialog.
Show, don't tell.
Not this: Barbara says she is concerned about the delay in processing TPS reports.

Instead: "It takes too long to process TPS reports," Barbara says.
Let the readers draw conclusions like they do in the real world.
Not: Peter doesn't want to talk about what happened at his previous job.

Instead:

"Peter, what happened at your last job?" Louise asks.

"Who wants coffee?" Peter says. "I'm going for a refill."
2. Start late.
You might be tempted to write the small talk that starts a conversation, so it sounds realistic. Instead, fast-forward to the meat for more impact. Imagine how a movie would show it.
Not:

Jason goes to Emma's office.

"Good morning, Jason," Emma says. "Thank you for coming in. I know it's a long trip for you."

"I'm happy to help," Jason says. "What can I do for you?"

"Well, the auditors called me yesterday, and..."

Instead:

Jason goes to Emma's office.

"I need to cancel our account," Emma says. "The auditors found problems."
3. Use contractions.
"She is our best chainsaw juggler" becomes "She's our best..." Not allowed to use contractions? Fight back with the tips in this post.
4. Don't stuff the dialog with story.
If they wouldn't say it in real life, don't make them say it in your scenario.
Not: "Diane, I'd like to hear your opinion about how to handle cultural differences on the new Gorko project, since you have been with the firm for eight years and have worked on numerous projects with companies in Gorkonia."

Instead: Bob calls Diane, who has eight years' experience on Gorko projects. "How should we handle cultural differences on the new project?" he asks.
5. Choose informal words.
"Wish" becomes "want," "assist" becomes "help." Find simple alternatives in The A to Z of Alternative Words (PDF) from the Plain English Campaign.
6. Break sentences into fragments of different types.
It varies the rhythm, makes people sound more human, and gives them character.
Not: "If you want to play the banjo, you will need to go outside."

Instead: "You want to play the banjo? Go outside."
7. Use "said" and "asked."
Avoid having people "growl," "smile," "snarl," or "laugh" their lines, which gets distracting and over-dramatic.
Often, you don't even need "said."
Example:

"How much are you willing to invest?" Jorge asks.

"Ninety bajillion dollars." Andrea opens her briefcase. "I have it right here."
Scenario-based training headquarters
I've gathered a lot of ideas about scenario design in one spot. You'll find example scenarios, design tips, research summaries, and more.
---
Scenario design toolkit now available
Design challenging scenarios your learners love
Get the insight you need from the subject matter expert
Create mini-scenarios and branching scenarios for any format (live or elearning)
It's not just another course!
Self-paced toolkit, no scheduling hassles
Interactive decision tools you'll use on your job
Far more in depth than a live course -- let's really geek out on scenarios!
Use it to make decisions for any project, with lifetime access
CHECK IT OUT