By Cathy Moore
It's time for New Year's resolutions! How about this one?
"I vow to become a hero to my learners and clients. I'll save them from boring information dumps and wasted money. I'll help them enjoy their jobs and see real-world improvement. I'll save the world from boring training!"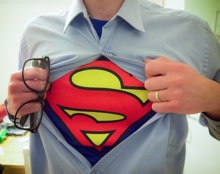 Without clear steps, our "Become a hero!" resolution could end up on the same dusty shelf as "Lose weight." So here are some steps to take you to heroic status. (As always, I'm talking to training designers in the business world, not education.)
1. Redefine your job in your head.
Our job is to change what people do, not just what they know. We need to design experiences, not information. Design practice, not a quiz.
2. Redefine your job in the real world.
Make clear that your goal is new behavior, not a score on a knowledge test. Posts that might help:
Since many clients think at first that they want a score on a test, you also have to make clear that you're a problem solver, not an order taker. You might get ideas from these posts:
If you're a freelancer, take a critical look at your marketing. Is your overall message "I create courses for you," or is it "I solve your performance problems?" Attracting the right clients makes being a hero a lot easier.
If you're an employee, does your organization treat you as a developer, or as a consultant? If you're in the "developer" slot, is there a more consultative role you can move into? If no one is doing any analysis of performance problems(!), can you sneak some analysis into your next project to show how it improves results?
3. Challenge yourself.
It's easy to deliver an order. It's harder to politely resist a band-aid solution and ask the kinds of questions that could really bring results. Like any superhero, sometimes you'll have to do uncomfortable things, like change clothes in a phone booth, but you're saving the world, so it's worth it.
4. Challenge your audience.
You're supposed to make training "engaging." But what's engaging? A presentation followed by "Can you remember what you were told 3 minutes ago?" Or an intriguing problem like the ones you have to solve on the job, but that has optional help and shows you better ways to find solutions?
For more on this, you might check out my scenario design course, and see the posts in the scenarios section of this blog.
5. Celebrate your wins, even the little ones.
Did you persuade a client to let you analyze the problem? Did a stakeholder agree to start with a realistic challenge instead of an information dump? Did you talk a client out of adding redundant narration for debunked learning styles? Celebrate!
We're trying to change a deeply embedded belief that claims our job is to stuff knowledge into brains. Even small wins are steps in the right direction. Celebrate them!
For more motivation, you might like my decidedly non-serious L&D Manifesto.
Photo by tom_bullock, Flickr via Compfight cc
---
Scenario design toolkit now available
Design challenging scenarios your learners love
Get the insight you need from the subject matter expert
Create mini-scenarios and branching scenarios for any format (live or elearning)
It's not just another course!
Self-paced toolkit, no scheduling hassles
Interactive decision tools you'll use on your job
Far more in depth than a live course -- let's really geek out on scenarios!
Use it to make decisions for any project, with lifetime access
CHECK IT OUT