Elearning has genies, superheroes, and wizards. Live training has the all-knowing instructor. I say all of them should stop being so darned helpful. Here's why.
Let's say that you've dusted off your bike and have been riding it to work, but it's no longer shifting smoothly and the chain keeps falling off. You tightened a nut that you thought might help, but the chain fell off again.
Now what? Which of the following will make you a smarter biker?
A. You download a troubleshooting guide from the internet. You spend two minutes going through its steps to check cable tension and the condition of the chain, and you discover that a loose Dunlowbrat was the problem. You tighten the Dunlowbrat and you're ready to roll.
or
B. A hipster genie appears with a poof. "In cases like this," he says smugly, "you need to tighten this thing here. It's called a Dunlowbrat. Here's a screwdriver. Now tighten the Dunlowbrat."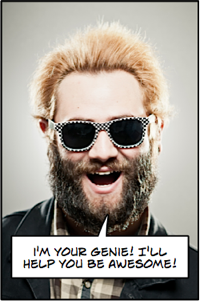 Which is more efficient? Solution B, obviously. You didn't waste two minutes checking other connections or puzzling things out. The hipster saved you time by telling you what to do.
Which will make you a smarter biker? Solution A. When you went through the troubleshooting process, you learned that cable tension and chain condition can also cause problems, which will make future problem-solving go faster and give you a better understanding of how a bike works.
You also might be more likely to remember a solution you discovered on your own rather than the one that someone with "superior knowledge" simply told you, although the trauma of having a hipster genie suddenly appear would certainly be memorable.
What does this have to do with instructional design?
Let's turn your bike problem into an elearning activity with a clickable bike.
Challenge: Your bike no longer shifts smoothly, and the chain keeps falling off. Click the part of the bike that is probably causing the problem.
You click a likely-looking nut.
Feedback: A hipster genie pops onto the screen. "Nope! That won't work. In cases like this, you need to tighten this thing." He points at a screw on the bike. "It's called a Dunlowbrat. Click the Dunlowbrat to tighten it."
You obediently click the Dunlowbrat and an animation makes it look like it's tightening.
Hipster genie: "Awesome! You rule!"
Your dignity and your brain wither simultaneously.
Genie-free rewrite
Let's jettison the genie from our elearning version and see what happens.
Challenge: Your bike no longer shifts smoothly, and the chain keeps falling off. Click the part of the bike that is probably causing the problem. If you're not sure, follow this troubleshooting guide.
You ignore the troubleshooting guide and click the wrong nut.
Feedback: The chain falls off again as you're climbing a hill, and you get grease on your clothes right before your meeting with the directors of HugelyImportant, Inc. Try the steps in this troubleshooting guide.
You open the troubleshooting guide, which has you click on a bike part for each step and concisely explains why you're checking each part. When you click the first part, you're told that it feels tight already. The same happens for the second part. When you click the Dunlowbrat, you're told it feels loose. You choose to tighten it, and you get the following feedback.
Feedback: The bike shifts smoothly and the chain stays in place. You roll into work relaxed and grease-free.
Face-to-face version
Obviously, in face-to-face training this would be a heck of a lot easier. Let's say we have a bike-maintenance class in a parking lot. The instructor could bring out a bike that has a loose Dunlowbrat and have someone ride it around the parking lot while shifting. Everyone watches as the chain falls off. The rider also reports that shifting was rough.
The instructor says, "What should we do?" and a few members of the class propose tightening the wrong nut. "A lot of people do that," the instructor says agreeably. "Let's tighten that nut and see what happens."
The chain falls off again, the class is puzzled, and the instructor doesn't say, "It's a loose Dunlowbrat." Instead, he says, "There's a process we use to diagnose this type of problem. Here's a handout. Let's go through it together."
But genies are fun!
If you're sure that your audience likes genies, superheroes, and wizards, you'll probably want to keep using them. But I'd suggest that you encourage the genies to act more like the instructor in the face-to-face example above, helping people find the best solution, and don't let them tell people what to do or how to think.
You might also want to tell your genies to keep their feedback ("Awesome!") in line with the level of learners' accomplishment, unless you're intentionally using over-the-top humor. Our hipster genie could actually be a fun, over-the-top guide, but only if he uses the techniques of the real-life instructor and helps us figure things out for ourselves.
Genies are a symptom of a deeper problem
The main reason we add genies and their superpowered friends is because we've let the material be primarily a presentation, and we just want to make the presentation more "fun." A deeper solution is to overhaul the design so there's far less presentation and a lot more learning by doing.
All photos in this post (c) iStock


---
Learn more
Build your performance consulting skills
with new tips and content for teams
Stop being an order taker and help your clients solve the real problem. The Partner from the Start toolkit helps you change how you talk to stakeholders, find the real causes of the problem, and determine what type of training (if any!) will help.
The toolkit has recently been expanded:
Many new examples as mini-practice activities (more than 50 total)
New tips for writing goals, actions, and analysis notes
For team leaders:

125 discussion questions — download the customizable PowerPoint deck
Tips for coaching new action mappers and embedding the practice in your organization
Sign up yourself or a team, with team discounts. Learn more.