If your client said, "Please create a course about our impossibly complex process," what would you say?
A. "Hmmm. That process looks really complicated. Is there any way to make it simpler?"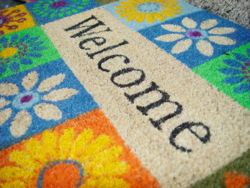 or
B. "No problem. Would you like fries with that?"
Often we know nothing about our client's processes, and it's tempting to think we should never question what they do.
But I like to think that our ignorance gives us a valuable outsider's perspective that can help our clients improve performance through every means, not just through a course.
Our contribution can include everything from writing job aids to helping the client troubleshoot and simplify their processes.
For example, I was once asked to write a super-whiz-bang Flash course on how to use a client's internal software. To write the course I needed to learn how to use the software, so I asked for their manual. They didn't have one. A cheat sheet? Nothing. There was a dense, cryptic screen you could get if you typed "help" and that was it.
I obediently wrote the course. It took eons and cost the client a bucket of money, but I think the most valuable part was actually the PDF quick reference that I wrote in just two hours.
Now that I have more of a spine, I'd propose just starting with the quick reference to see if that removed the need for a course.
But isn't it risky?
In his post on this topic, Allen Partridge asks,
To what extent do we need to understand a system's complexity? And to what degree are we liable should we suggest the removal of a stage or step in a process which may lead to unanticipated complications?
This is where subject matter experts come in handy. Require them to approve everything, including any improvements to processes or job aids. They're the experts on the system, not you, and they're the ones who need to assume responsibility for it.
If you use a collaborative approach like action mapping and include SMEs from the beginning, they (ideally) should buy into the idea of performance improvement and offer their own ideas for improving the process.
---
Learn more
Free scenario writing tips
Do your training scenarios sound a little ... fake? Is the dialog stiff? Do the scenes seem forced? This
free mini-toolkit
will help. You'll get quick tips and practice rewriting blah scenario snippets.
Design training that matters
My book
Map It
helps you turn training requests into projects that make a real difference. With humor and lots of examples, Map It walks you through
action mapping
, a visual approach to needs analysis and training design used by organizations around the world.