By Cathy Moore
You want to create an action-packed online experience that revolutionizes learners' behavior. Your subject matter expert wants you to faithfully reproduce every lovingly polished bullet of their 217-slide PowerPoint presentation. Is there any hope for your relationship?
Everyone knows that in any relationship, it's the other person who needs to change. So let's change your SME.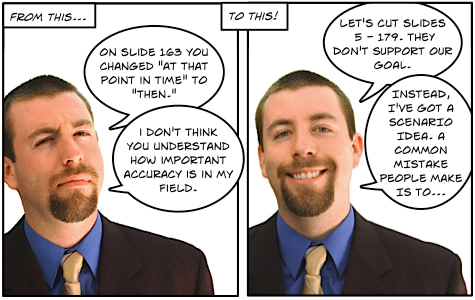 1. Read what they gave you.
Before you do anything else, read all 217 slides. Respect the effort that the SME has put into their work and try to understand what they wrote. And make a note for future projects: Don't let SMEs create PowerPoints. Ask them for an informal brain dump instead, or an interview, or any other format that they won't put so much work into.
2. Involve them from the beginning
If you use Action Mapping, include the SME in the very first discussions with your client, when you identify the goal. Ask the SME to help answer these questions:
Why does this course (or project) need to exist?
What would happen if we didn't create the course? How much could that cost the company?
What is the one clear change we want to see happen as a result of our course?
How can we tell if the change has occurred? How can we measure it?
3. Ask them to help identify what people need to do
and why they aren't doing it
Once the SME agrees with the business goal of the course, ask them to help you identify what people need to do on their jobs to reach that goal.
Often, the SME is too close to the process to see it from the bird's-eye view that you need. Some questions that might help:
Which people are involved in the process or action?
How would you describe each person's role to a 10-year-old?
Could you walk me through the basic process from beginning to end?
What would happen if Person X didn't do their part?
Is this step optional, or is it required to reach our goal?
What's a common mistake at this point?
What information or support do people have? Do they use it? If not, why not?
What pressures are people under?
Are people rewarded if they achieve the performance we need? How?
4. Ask them to help brainstorm activities and limit information
For each on-the-job action that you want your materials to teach, ask the SME to help you think of an online activity that gives learners a chance to practice the action (not recognize facts).
Often, it's easier for SMEs to respond to your ideas first, before coming up with their own. So sketch a sacrificial prototype activity that you know won't be quite right, and show it to the SME. They'll be happy to correct you, and that might be all the momentum they need to begin offering their own ideas.
If your SME keeps suggesting fact checks instead of more realistic decision-making activities, you might try the following questions:
If a person doesn't know that fact, what do they do wrong on the job? How would that affect our goal?
How could you tell by watching me do my job that I know that bit of information?
What mistakes do new people make?
What mistakes do people make when they get over-confident?
This helps remind the SME that the only information that should go into the material is the info that's required to perform the activities. If the SME wants to add more information, ask them to identify the activity for which it's vital.
This last phase can be challenging for the SME, because you'll be chopping information that they cherish. If the chopping gets too painful for them, consider creating an optional place for the "nice to know" information and linking to it in the course.
For more ideas on working with SMEs, check these out:
---
Scenario design toolkit now available
Design challenging scenarios your learners love
Get the insight you need from the subject matter expert
Create mini-scenarios and branching scenarios for any format (live or elearning)
It's not just another course!
Self-paced toolkit, no scheduling hassles
Interactive decision tools you'll use on your job
Far more in depth than a live course -- let's really geek out on scenarios!
Use it to make decisions for any project, with lifetime access
CHECK IT OUT