By Cathy Moore
Here's a common question:
All employees have to know how to use our software. Why isn't that a good enough goal for instructional design? Why should I go through action mapping?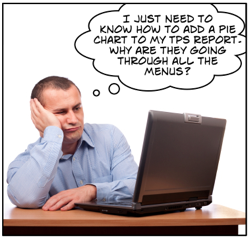 My answer: If you don't identify what people actually do with the software and design your training around that, you could create an information dump that helps no one and can't justify its own existence.
Identify what they need to do, not what they need to know
People use software to do things. If you know what those things are, you can design easily updated job aids or online help for the most common tasks. Then your elearning, if it's necessary at all, can use realistic scenarios to give learners a safe place to practice using the job aids.
Photo: (c) iStockPhoto
---
Learn more
Build your performance consulting skills
with new tips and content for teams
Stop being an order taker and help your clients solve the real problem. The
Partner from the Start toolkit
helps you change how you talk to stakeholders, find the real causes of the problem, and determine what type of training (if any!) will help.
The toolkit has recently been expanded:
Many new examples as mini-practice activities (more than 50 total)
New tips for writing goals, actions, and analysis notes
For team leaders:

125 discussion questions -- download the customizable PowerPoint deck
Tips for coaching new action mappers and embedding the practice in your organization
Sign up yourself or a team, with team discounts.
Learn more.