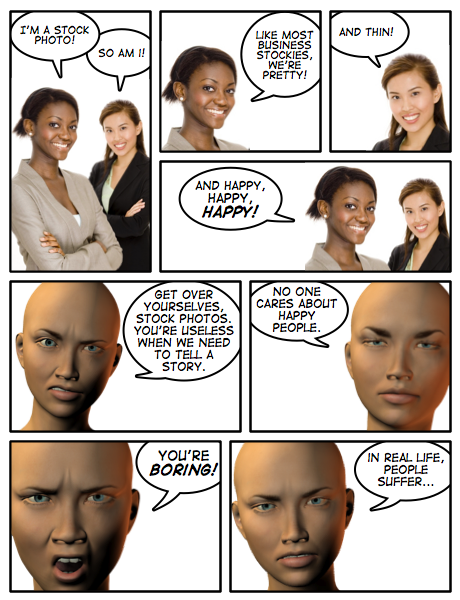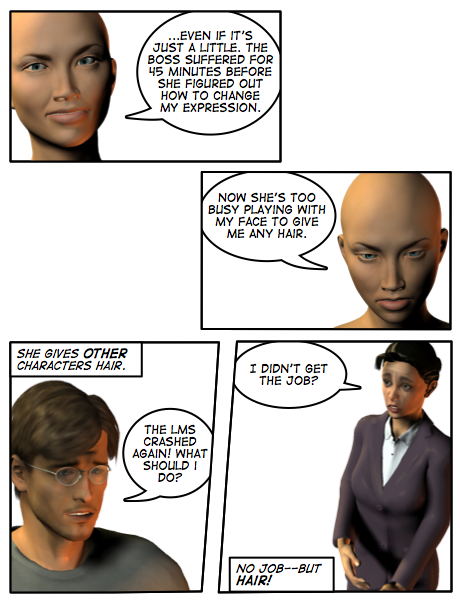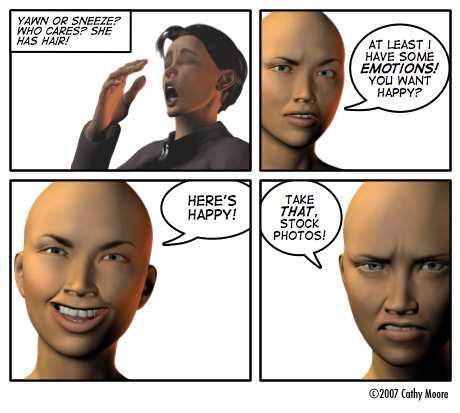 Tools: Poser 3D editing software and ComicLife, both available for Mac and Windows. I created the images of Sydney (the hair-free woman) in 45 minutes, an average of 5 minutes each. That was after I spent another more painful 45 minutes figuring out how to use the software.
Here's how Sydney's head looks without modifications: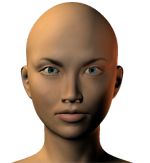 You change her expression by dragging points on her face or by turning dials that, for example, move her right eyebrow up. You use the same techniques to move body parts and change the camera angle.
If you need to show the same characters with many expressions and poses, Poser could be an option. The trick is to keep the characters from looking creepy.
More about Poser:
It lets you build characters of any age and ethnicity; third-party characters are available.
It lets you change characters' expressions, positions, and clothing.
It includes a less-than-stellar manual and "tutorial"
---
Learn more
Build your performance consulting skills
with new tips and content for teams
Stop being an order taker and help your clients solve the real problem. The Partner from the Start toolkit helps you change how you talk to stakeholders, find the real causes of the problem, and determine what type of training (if any!) will help.
The toolkit has recently been expanded:
Many new examples as mini-practice activities (more than 50 total)
New tips for writing goals, actions, and analysis notes
For team leaders:

125 discussion questions — download the customizable PowerPoint deck
Tips for coaching new action mappers and embedding the practice in your organization
Sign up yourself or a team, with team discounts. Learn more.