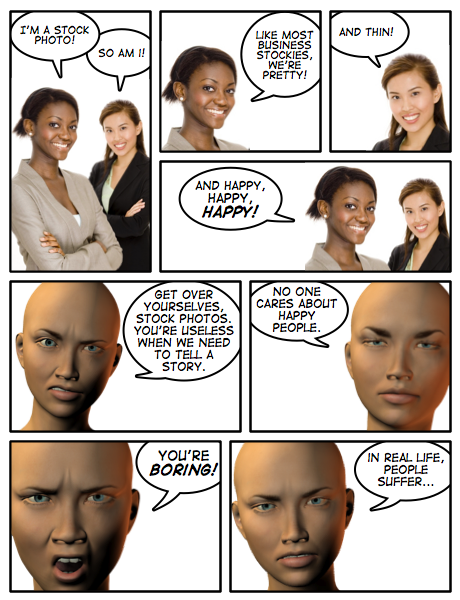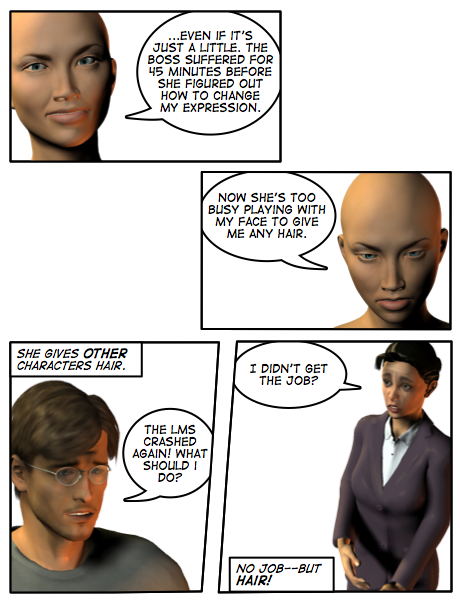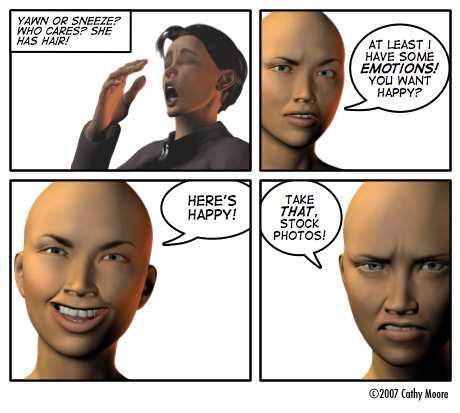 Tools: Poser 3D editing software and ComicLife, both available for Mac and Windows. I created the images of Sydney (the hair-free woman) in 45 minutes, an average of 5 minutes each. That was after I spent another more painful 45 minutes figuring out how to use the software.
Here's how Sydney's head looks without modifications: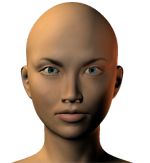 You change her expression by dragging points on her face or by turning dials that, for example, move her right eyebrow up. You use the same techniques to move body parts and change the camera angle.
If you need to show the same characters with many expressions and poses, Poser could be an option. The trick is to keep the characters from looking creepy.
More about Poser:
It lets you build characters of any age and ethnicity; third-party characters are available.
It lets you change characters' expressions, positions, and clothing.
It includes a less-than-stellar manual and "tutorial"
---
Learn more
Free scenario writing tips
Do your training scenarios sound a little ... fake? Is the dialog stiff? Do the scenes seem forced? This
free mini-toolkit
will help. You'll get quick tips and practice rewriting blah scenario snippets.
Design training that matters
My book
Map It
helps you turn training requests into projects that make a real difference. With humor and lots of examples, Map It walks you through
action mapping
, a visual approach to needs analysis and training design used by organizations around the world.