By Cathy Moore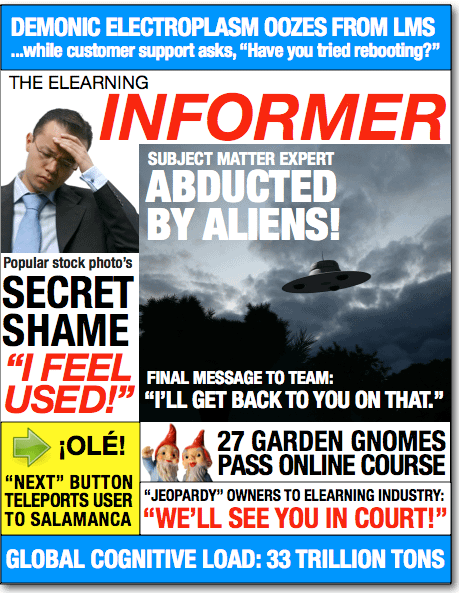 Are you brave? Try some humor and bond with your learners. Here are a few tips that might help.
Know your learners
Learners will feel connected with you if they think you understand them. The kind of humor you use will show whether you have that understanding.
For example, the fake tabloid above has "in" jokes that, if they work, will help readers feel like I know their world and am one of them. If the jokes bomb…luckily for me, it's just a blog.
I wouldn't use something as extreme as the tabloid in a course without testing it on some learners first. In fact, I'd want to have a contest and ask learners to submit headlines.
Convince others to join you
Your biggest challenge might be convincing everyone else on the project that it's safe to use humor.
Here's what (sometimes) works for me:
Instead of saying, "Let's use humor," pitch a specific idea ("What if we used a Twilight Zone theme and…"). This shows the team what you mean by "humor" and gives them something to reject.
Cheerfully abandon the rejected idea and offer up more possibilities. This will get others' creative juices flowing, and soon you'll have several ideas.
When an idea gets a tentative OK, write or sketch a short example of how it could be used in the course and get everyone's feedback.
Write or prototype a larger section of the materials using the idea and show it to some learners. Adjust as necessary.
Some benefits you can point out to the fearful:
Learners like funny materials and are more likely to stick with them. (The funniest course I worked on was also one of the most successful.)
Others working on the project, such as illustrators, will be more inspired by funny content, which could increase the quality of the course.
Funny courses are viral–learners tell their coworkers about them, possibly increasing participation.
A web search will pull up studies supporting the idea that humor engages learners and helps them learn.
There will always be a few learners who don't like something about a course. Maybe some learners will think the humor is unnecessary. But others won't like the organization, or the spelling, or the colors… If adding humor makes the course more effective for most learners, don't worry too much about the occasional dissenter. Just make sure all the stakeholders like the course before you publish it.
---
Scenario design toolkit now available
Design challenging scenarios your learners love
Get the insight you need from the subject matter expert
Create mini-scenarios and branching scenarios for any format (live or elearning)
It's not just another course!
Self-paced toolkit, no scheduling hassles
Interactive decision tools you'll use on your job
Far more in depth than a live course -- let's really geek out on scenarios!
Use it to make decisions for any project, with lifetime access
CHECK IT OUT