I preach a lot about making activities realistic and showing the results of the learner's choice. Here's a good example of those principles from the folks at SmartBuilder.
In the activity, you'll learn the ports of a laptop and apply your knowledge in a realistic situation. Go try it, and then come back here for some discussion.
A "traditional" course wouldn't have let us explore the laptop. Instead, we'd have to sit through several slides of presentation that explained each port whether we already knew it or not.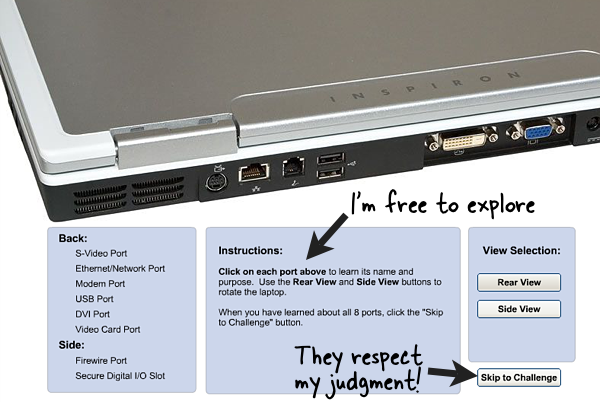 After we've explored as much or as little as we want, we're faced with a realistic situation — and a person who speaks directly to us. It's not "Help Bob set up his laptop," it's the higher-pressure "Help me." The time limit adds some more pressure and a bit of a game element.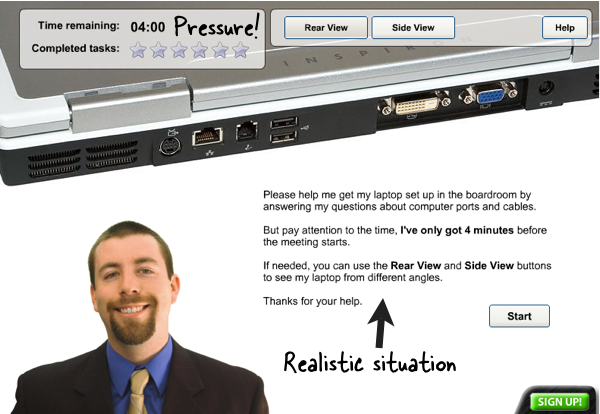 Finally, when we make a choice, we see the realistic result of that choice, not a patronizing "correct!" or "incorrect."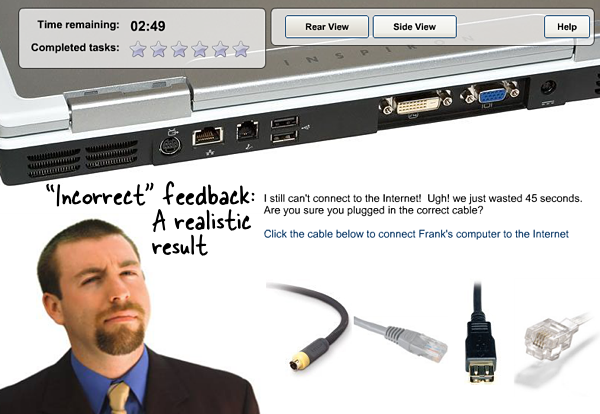 You can see more examples on this page of the SmartBuilder site.
---
Learn more
Scenario design course starts in September 2019
Learn to design scenarios by designing scenarios, on the job. In this four-week
online workshop
, you'll apply what you learn to a project on your job and get personal feedback from Cathy.
Build your performance consulting skills
Stop being an order taker and help your clients solve the real problem. The
Partner from the Start toolkit
helps you change how you talk to stakeholders, find the real causes of the problem, and determine what type of training (if any!) will help.