What happens if you don't set any boundaries in your relationships? You wear yourself out doing everything for everybody and the next thing you know, you've cursed everyone out, grabbed a couple of beers, and slid down the escape chute.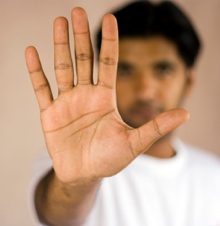 The same thing can happen to your course. If you don't set any boundaries and try to cover everything for everybody, you end up with a stressed-out course that can't do anything for anybody.
Just say no
It's fun to say "no." Try it!
"I'm sorry, but we can't teach novices and experts simultaneously. We need to pick one or the other."

"Let's focus on people who need to do X in situation Y. If we try to reach 'everyone who's interested in X,' we'll just create an information dump."

"Since widget sniffers and widget snarfers have very different jobs, we should create a separate module for each role."
No one wants a lukewarm experience
An entrepreneur was convinced he had a great idea. "Some people like hot tea, and other people like cold tea," he said. "Let's sell lukewarm tea and dominate both markets!"
Is your course lukewarm?
Image © iStockPhoto: BijoyVerghese
---
Learn more
Build your performance consulting skills
with new tips and content for teams
Stop being an order taker and help your clients solve the real problem. The
Partner from the Start toolkit
helps you change how you talk to stakeholders, find the real causes of the problem, and determine what type of training (if any!) will help.
The toolkit has recently been expanded:
Many new examples as mini-practice activities (more than 50 total)
New tips for writing goals, actions, and analysis notes
For team leaders:

125 discussion questions -- download the customizable PowerPoint deck
Tips for coaching new action mappers and embedding the practice in your organization
Sign up yourself or a team, with team discounts.
Learn more.