I've added several example scenarios to this collection, along with discussion to help you evaluate the designers' choices.
Challenges you might not have seen before include:
Can you convince Carla to analyze the problem instead of throwing a course at it?
Your patient is HIV positive. Should you tell his wife?
Your student is stressed and might be cutting herself. Can you convince her to talk to the counselor?
Can you recognize gang activity and respond appropriately?
Something is bothering Hana. Can you persuade her to talk about it?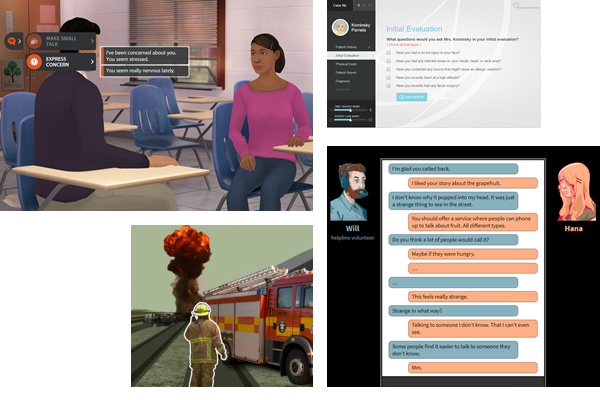 You'll consider several design decisions, including:
What level of production is really necessary?
Should players have to choose every word they say in a conversation, or just some phrases?
How much information should we present, and how much can people easily figure out on their own?
How often, if ever, should we interrupt with hints or correction?
Try the scenarios here.
September scenario design course is open for registration
We examine these types of activities in my scenario design course, which begins the first week of September. In this four-week course, you'll immediately apply what you're learning to a project on your job and get personal feedback from me. This is a popular course with limited seats, so register soon.
---
Learn more
Design challenging scenarios
Want to help people change what they
do
, not just what they know? Give them realistic practice with scenarios. Learn how in my four-week
scenario design online course
. You'll have hands-on practice, lively online sessions, and my personal feedback.
Design training that matters
My book
Map It
helps you turn training requests into projects that make a real difference. With humor and lots of examples, Map It walks you through
action mapping
, a visual approach to needs analysis and training design used by organizations around the world.