"I've got a great idea!" says the new employee at Acme Tea Company. "Some people like iced tea. Other people like hot tea. Let's make everyone happy by selling room-temperature tea!"
The L&D equivalent sounds like this:
"Everyone needs to be aware of this, so put a course on the LMS and assign it to all employees."
"Make a course about the new product features for the repair people, help desk, and sales staff."
"Everyone should treat patients with respect, so let's create a workshop for all staff."
The result? A bland, room-temperature information dump that everyone quickly forgets. Here's how to get your client to take a more effective approach.
1. Solve a problem. Don't just deliver information.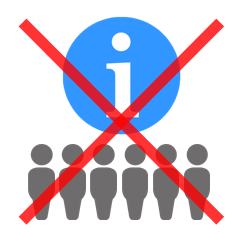 Our clients often expect us to install information in people's heads. Instead, we need to ask the right questions to uncover the problem that the information will supposedly solve.
Take charge of the conversation from the first contact with the client. What problem are they trying to solve? What do they need people to do? Why aren't people doing it?
You might discover that information alone really would solve the problem. In that case, you probably don't need a course or workshop. How about some easy-to-use job aids and some motivating messages from leadership?
If the client wants everyone to be "aware," try these tips.
2. Segment the audience by what they do on the job.
Repair staff need to troubleshoot misbehaving widgets. Sales staff need to match the right widget to the customer's needs. Giving them both a generic presentation on new widget features will help neither of them.
Consider creating at least one persona to represent each segment. A persona is a fictional but realistic character with a name, age, interests, and everything else that makes a person real. Consider what that person needs as you design solutions.
Does Betty the widget salesperson need to reassure people about the heat generated by the new widget? How can we help her do that?
Will David the widget repair person be tempted to misdiagnose a wobble in the new widget because the feet are designed differently? How can we help him avoid that mistake?
Some people use "persona" to mean "weird-looking avatar character that annoys the heck out of me in elearning" (or maybe that's my own definition). I'm using "persona" in the marketing and usability sense. I'm not saying, "Put Betty and David in your materials."
3. Focus on designing activities, not information.
Now that you've segmented people by what they need to do, help them practice doing it.
Create unique activities that let people pull the information they need to solve a realistic problem that's specific to their job. These activities will be different because your segments have different jobs with different challenges.
For example, a technician drawing blood has one type of interaction with a patient, while a nutritionist providing advice has a different type. What does "respect" look like in each case? How can each person practice saying and doing respectful things?
If you're packaging your activities as one online course, you can have each person choose their job role and send them on different paths. However, a one-shot course is rarely the best solution to a problem. For example, you could consider offering a bank of activities so people can practice on demand, over time — and that's just one example of many possibilities.
Here's one fictional example of the activity-first approach that avoids a generic information dump.
The core problem: "Training is knowledge transfer"
Our learners aren't in school, preparing for a test. They're in jobs that require them to do things. They often need practice, not just information.
However, many clients (and too often, our bosses and instructional design professors) assume that our job is to install information into people's heads. We're supposed to get the information in there and then test to make sure it survived a few minutes in short-term memory.
We can change that perspective by politely but relentlessly turning the conversation to the performance problem that needs to be solved, not the information that people supposedly need. Here's an interaction that summarizes the action mapping workflow.
Get more tips from my mini-expert system
This interactive tool asks you five questions about your training project and provides custom advice, thanks to the power of variables in Twine.
If you have a performance problem that could be improved with information and advice, you might use Twine or a similar tool to answer the common questions.
---
Learn more
Design training that matters
My book
Map It
helps you turn training requests into projects that make a real difference. With humor and lots of examples, Map It walks you through
action mapping
, a visual approach to needs analysis and training design used by organizations around the world.
Create challenging scenarios
Want to help people change what they
do
, not just what they know? Give them realistic practice with scenarios. Learn how in my four-week
scenario design online course
. You'll have hands-on practice, lively online sessions, and my personal feedback.