Decision-making scenarios work best when they require realistic decisions and avoid preaching. Let's look at some examples.
Not a real on-the-job decision
Carla, a sales person, is meeting with Amit, a new customer. She shows him a megawidget.

"You'll love this megawidget," Carla says.

"I don't want a megawidget," Amit says. "I came in here for a microwidget."

What is this an example of?
a. Product Boundary Issues
b. Customer Misvetting
c. Courageous Upselling
What's wrong with this scenario?
We're not asking the learner to make a challenging decision like the ones they make on the job. We're checking the learner's short-term memory: Can they still recognize "Customer Misvetting," which we defined three screens ago?
We've disguised a quiz question as a scenario. It's better than a generic quiz question, but it doesn't require the kind of thinking that learners need to do on the job.
Also, the question tests only whether the learner can apply the right label to a problem. It doesn't test whether the learner can correct the problem.
A better question would ask what Carla should do, with the correct choice being the type of action that will correct a case of "Customer Misvetting." Then we'd be testing the learner's ability to recognize the problem and their ability to solve it.
A real decision
How is the following scenario different?
Carla, a sales person, is meeting with Amit, a new customer.

"I might be interested in your J-12 microwidget," Amit says. "At 79 wigabits, it has enough power for paramatizing. But I've read that it runs hot."

What should Carla say?
a. "Are you referring to the Widget World review?"
b. "Actually, the J-12 has only 60 wigabits. I think you'd need the K-77."
c. "Our studies have never shown any heat issues with the J-12. Would you like to see the test results?"
Why is this question better?
It more closely mirrors what salespeople actually have to do, which is listen and respond to customers' needs and concerns. We're not asking learners to regurgitate facts but to make choices in nuanced situations.
Feedback
Let's say the learner chooses option C above—they think Carla should tell Amit, "Our studies have never shown any heat issues with the J-12. Would you like to see the test results?"
What's the difference between the following types of feedback for that choice?
"Telling" feedback
While this response won't derail the sales conversation, it could make Carla seem defensive and possibly increase Amit's skepticism. It would be better for Carla to show that she's familiar with what the industry is saying about our widgets. Try again.
"Showing" feedback
"I'm not surprised that your studies don't show any problems," Amit says, sounding a little annoyed. "But Widget World does rigorous, independent testing, and they found heat issues. What can you say about their results?"
"Telling" feedback destroys the sense of being in a story and, worse, it relieves the learner of any need to think. "Showing" feedback emulates real life: something happens and the learner draws a conclusion from it, using a lot more brain. It's also more concrete and therefore more likely to be remembered.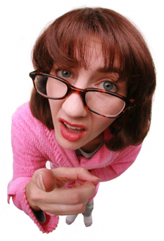 If you're worried that your learners won't be able to extrapolate from "showing" feedback, you might be tempted to provide additional "telling" feedback, like "Carla needs to show that she's familiar with what the industry is saying about our widgets." But fight this temptation, because:
Your learners are adults and have been learning from experience for decades. Trust them to extrapolate. If you're truly concerned about their ability to draw conclusions, test your material on some typical learners.
If these mini-scenarios form a longer scenario, adding "telling" feedback would interrupt the story. You'd become like an annoying parent who interrupts a movie to tell the children to never do what the protagonist just did.
Development
I wrote the sample scenarios as text because that was easiest given my limited time. Obviously, interactions like these could be developed in any number of ways, from photos with dialog bubbles to video.
---
Learn more
Build your performance consulting skills
with new tips and content for teams
Stop being an order taker and help your clients solve the real problem. The Partner from the Start toolkit helps you change how you talk to stakeholders, find the real causes of the problem, and determine what type of training (if any!) will help.
The toolkit has recently been expanded:
Many new examples as mini-practice activities (more than 50 total)
New tips for writing goals, actions, and analysis notes
For team leaders:

125 discussion questions — download the customizable PowerPoint deck
Tips for coaching new action mappers and embedding the practice in your organization
Sign up yourself or a team, with team discounts. Learn more.