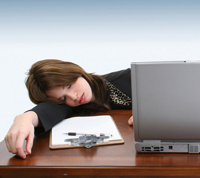 Which stars must align before we can design truly narcotic elearning? Here are a few possibilities.
No clear goal: We don't look closely enough at the business reason for the course (there is one, right?), or we don't identify the behaviors that will lead to that goal. As a result, we cram in too much content and don't help learners apply it to the real world.
The wrong tool: We're using elearning when another method would work better. Maybe if we had a clearer idea of our goal…
Too much telling: We think, "We know things that the learners don't! We must tell the learners these things!" We're stuck on "knowledge transfer." Our goal becomes to organize the information so it travels most efficiently from us to the receiver learner. We forget that we're designing an experience and think we're just designing information.
Too much control: If our job is to transfer knowledge, then of course we'll want to control the learners to make sure they receive each and every bit of the transmission. Don't let them skip around–delete that menu! And let's read everything aloud to make sure the learners don't miss a thing.
Not enough time: Feeling pressured? You're not alone. Several respondents to Elliott Masie's 2005 survey mentioned problems like "ever faster development cycles that make it difficult to maintain minimum quality standards" (see What Keeps You Up at Night?). Without time, we can't brainstorm more creative approaches or stay current with learning research.
Lack of internal standards: Rigorous, written standards for elearning materials don't appear to be wildly popular. These standards could identify the acceptable approaches to design as well as get down to details, such as prohibiting the narration of on-screen text. In a perfect world, the effectiveness of each course would be tracked and the standards adjusted as necessary.
Fear of creativity: We're sometimes afraid not only of humor but even of "safer" ideas like dialog, scenarios, simulations, "discovery" approaches, and the many other ways to show instead of tell. Also, it's hard to find examples of creative elearning, so we don't have success stories to reassure us.
I developed action mapping to help us avoid these traps.
---
Learn more
Build your performance consulting skills
with new tips and content for teams
Stop being an order taker and help your clients solve the real problem. The Partner from the Start toolkit helps you change how you talk to stakeholders, find the real causes of the problem, and determine what type of training (if any!) will help.
The toolkit has recently been expanded:
Many new examples as mini-practice activities (more than 50 total)
New tips for writing goals, actions, and analysis notes
For team leaders:

125 discussion questions — download the customizable PowerPoint deck
Tips for coaching new action mappers and embedding the practice in your organization
Sign up yourself or a team, with team discounts. Learn more.