Instructional designers have become a fundamental component of today's evolving educational landscape.
The primary goal of instructional design theories and design is to ensure educational material, methods, and activities are purposeful, engaging, and conducive to learning. This is why it's vital for aspiring instructional designers to master the skills of analyzing, designing, developing, and evaluating educational materials and strategies.
As the demand for instructional designers soars, many have turned to comprehensive training to hone their skills. In this article, we will show you the five best instructional design online courses and why we have selected them.
Top instructional design courses on the market
We have picked these five courses based on their reputation, curriculum quality, industry recognition, and the expertise of their instructors. So, let's dive right in, shall we?
"Partner From The Start" and "Scenario Design"
These are two main instructional design courses created by Cathy Moore. Partner From The Start and Scenario Design are a series of programs where you don't really "learn about" something but rather do it on your job.
Partner from the Start will show you how to be a consultant (and not an order-taker), identify problems, follow scripts to manage conversations with your clients and access all the tools you will need to make quick assessments. The Scenario Design course, on the other hand, will help you learn by doing as you design various scenarios, create challenging activities, and use worksheets to apply your instructional theories and skills.
Both of these options will have you face real-world tasks to complete. If you do, you will earn a certificate.
The trainer-to-trainer courses are ideal for designers who work with large organizations and want to steer stakeholders away from information dumps.
The cost is $240 for a solo toolkit (or $650 for a team of 3 and $1500 for a team of 7). All plans include videos, branching scenarios, mini-challenges, downloads, job tracking, and an instructional design certificate.
"The Instructional Design Bootcamp"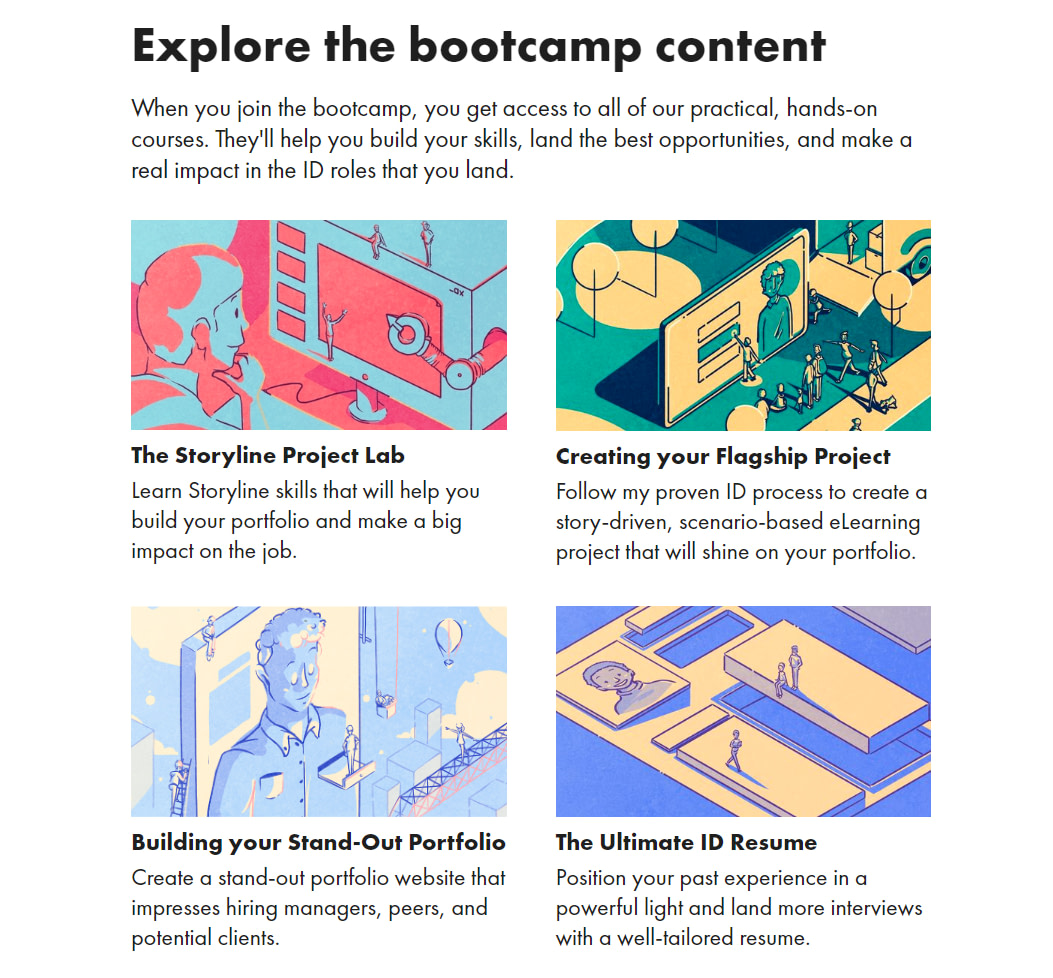 The Instructional Design Bootcamp is a personalized online education course focusing on achieving financial freedom as an instructional designer.
This course covers more than thirty rounds of in-depth, actionable feedback on about a dozen portfolio deliverables. In other words, you will be able to create a great starting point with detailed feedback from experienced instructional designers and hiring managers.
The course offers 1-on-1 support, so you can ask anything you need and receive answers from professionals with over twenty years of experience in instructional design. There are also several opportunities to improve your skills – including a storyline project lab, a flagship project creation workshop, and tips for making your portfolio and ID resume stand out. The course will show you how to ace an ID interview and get valuable leads on LinkedIn as well.
The bootcamp is better fitted for current or former educators that want to work remotely on corporate instructional design. All in all, it's a hands-on online experience that will help you create story-driven projects and boost your visual design, optimizing your network so recruiters reach out to you instead of the other way around.
The general timeline to complete this instructional design mastery series is around five months, and you will need to commit to five hours a week (although there are more flexible options, too). The bootcamp is priced at $7,400 USD, which will give you lifetime access to the program and its contents.
"Introduction to Instructional Design"
The Introduction to Instructional Design course is a comprehensive and immersive program offered by the Harvard University Professional Learning Lab. Its goal is to introduce participants to the fundamental principles and practices of instructional design.
The introductory course is aimed at educators, instructional designers, and professionals involved in developing educational materials and provides a solid foundation for creating effective learning experiences. Led by a team of experienced instructional design experts, this online course combines theory, hands-on exercises, and interactive discussions to gain practical skills and evaluate educational materials.
During this course, you will be able to use today's media and technology to bridge the gap between theory and practice. In particular, you will explore the integration of technology in instructional design, examining how digital tools and multimedia resources can enhance learner engagement and comprehension. The syllabus also includes understanding instructional design, analyzing learner needs, designing learning objectives, creating engaging educational materials, assessing, evaluating, implementing, and iterating.
The course is better suited for educators, instructional designers, curriculum developers, and trainers.
As a student, you will be required to submit a project every two weeks. The pace is instructor-led, although there are video transcripts available. The cost for this online instructional design course is $3,100.
"Build Your Skills as an Instructional Designer"
Build Your Skills as an Instructional Designer is a relatively short introductory course (about eight hours long) that provides participants with a solid foundation to explore a career in instructional design.
The course covers the essentials of instructional design, including conceptual and theoretical foundations. It will show you how to use video to design a learner's journey, as well as give you all the important concepts to support eLearning, online training, or corporate training.
For example, some of the contents you will cover in this course include: Building your own professional training, instructional design essentials, eLearning essentials, components of effective learning, storyboarding, training with stories, designing a learner's journey, creating fun and engaging videos, and measuring learning effectiveness.
When you are done with the course (which consists of ten lessons or units), you will earn a certificate of completion.
The Build Your Skills as an Instructional Designer course is part of LinkedIn Learning Path, a series of programs designed to advance people's careers with professional training. You will need to talk to one of their sales representatives to find out more about their active subscription plans and certificates.
"Instructional Design Foundations and Applications"
Coursera's Instructional Design Foundations and Applications is a course developed to introduce learners to the foundations of instructional design. It includes conceptual and theoretical knowledge, as well as a detailed analysis of instructional systems.
The goal of this course, which is offered by the University of Illinois at Urbana-Champaign and taught by Eunjung Grace Oh (Department of Education Policy, Organization & Leadership), is to help professionals address performance problems within their organizations.
Some of the modules this course covers include an introduction to instructional design (historical foundations, essential concepts, and career landscape), tools and design models, and two analysis exercises dealing with context analysis, needs assessments, learning environments, learning goals, objectives, and outcomes.
The course has flexible deadlines and can be followed on your own schedule online (to clarify: You will have to choose a deadline, but you can reset it in accordance to your needs). Upon completion, you will receive a shareable certificate. You will need about 12 hours to complete this training.
You can enroll for free, but completion certificates are paid. Check Coursera's page to learn more about financial aid and business options.
By Yisela Alvarez Trentini
Anthropologist & User Experience Designer. I write about science and technology. Robot whisperer. VR enthusiast. Gamer.