Design training scenarios
that your learners love
Available Feb. 1
Reserve now and save
This in-depth toolkit from Cathy Moore will help you create thought-provoking scenarios that clients and learners love. No more information dumps!
Get the insight you need from the subject matter expert
Create mini-scenarios and branching scenarios for any format (live or elearning)
Write realistic questions and challenging distractors
Help people learn from the consequences of their decisions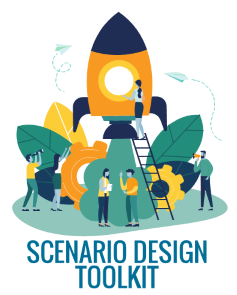 Follow the steps to create challenging activities
You'll immediately apply what you learn to a project on your job.
Plan for strong activities
The 3 crucial steps to take before you decide a scenario is a good idea
How to decide between a mini-scenario and a branching one
The common scenario structure you'll want to avoid
The 7 questions you need to ask your SME about the job task
How to respond to stakeholders who want you to include unnecessary information
Write challenging scenario questions
The 5 ingredients of a thought-provoking scenario question
When you should use "you" and when you might want to avoid it
Five ways to make options more challenging
Six ways to provide feedback without sounding preachy
How to identify which information to provide and when to provide it
One simple trick that will move you from "showing" to "telling"
How to write realistic dialog
Plot a branching scenario
The best way to plot a branching scenario and keep the story under control
Why you need to provide redemption paths in your branching scenarios
When to provide help, and when to step back
How to write debrief questions to help people transfer their learning to the job
Choose the best format
How to design scenarios for any format, including live sessions
Why starting with the activity, not a presentation, makes learning stick
Why you'll want to think twice about creating a course or event, and what you can propose instead
Why stock photos and cartoons can work against you, and what to consider instead
You'll create a prototype. The toolkit will bring you to the "prototype one activity" stage on this workflow. Once you've created a prototype, the rest of the process is straightforward.
No software required
The toolkit helps you design your activity. It isn't a development tool.
You'll develop your design outside the toolkit, using any tool and any format.
Toolkit: Guidance, job aids, and realistic practice
Short, high-energy videos: More than 40 videos by Cathy help you make strong design decisions and show you how to plot and write compelling scenarios.
Practice with the fictional client: Branching scenarios and mini-challenges give you practice handling the SME and client with the toolkit story.
Write a branching scenario, step by step: Help design a branching scenario for the fictional client, from the analysis to the final script.
Wide variety of practice: More than 100 mini-challenges help you practice choosing good ideas, writing strong questions, and deciding which media and format to use for a wide variety of scenario ideas.
Interactive decision tools: Consider decisions about every aspect of your activity and get custom feedback -- it's like talking it through with Cathy
Immediately apply it: Apply each step to your real-life project with my recommended tasks, and track your progress in the toolkit.
Downloadable documents: Apply new skills and change your procedures with templates, worksheets, and flowcharts.
Lifetime access: You'll have access for the lifetime of the product.
Work at your own pace: The material is equivalent to a two-day workshop if you use the downloadable templates and complete the on-the-job work. But instead of cramming it all into two exhausting days, you'll go at your own speed and into more depth.
Portable badge: When you've completed all the on-the-job tasks, you'll earn an Open Badge format badge. You can share it with employers and on social media and download a verifiable PDF version (see a sample PDF).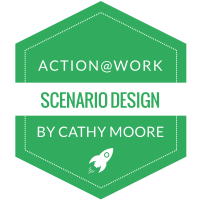 It's not another course!
The toolkit is a menu-driven series of challenges, guidance, downloads, and real-world actions. Start at the top and follow all the steps, or jump to the point you need right now. It's a how-to reference with lots of practice that you'll refer to again and again.
It's similar in design to the Partner from the Start toolkit. You can see screenshots of that toolkit here.
If you're familiar with the live scenario design course, the toolkit addresses the same skills but in more depth with more practice, and it's designed to be used at your own pace.
Much more than elearning
Want to use scenarios in live discussions? Provide them as spaced practice?
The toolkit helps you choose the best format for the goal and audience.
It's all based on action mapping
The toolkit is based Cathy Moore's action mapping model, an approach to training design that's used by organizations worldwide.
"I'm in a 'happy place' now. Your action-mapping approach, advice, and insight will help me create learning experiences for the right reasons (to benefit the learner!) and articulate those reasons to others. You've helped me find value in my work again. I can't thank you enough!"
Companion to Partner from the Start
The Partner from the Start toolkit (not required) helps you analyze the performance problem and make sure training really is part of the solution. This toolkit continues the process, helping you brainstorm and design strong activities.
You'll get more from the scenario design toolkit if you've first applied Partner from the Start to your project, but it's not required.  You'll get a quick review of the needs analysis done in Partner from the Start and links to more information.
Reserve now for less
Reserve access for yourself or your team now to take advantage of pre-release pricing. You'll get access to the toolkit on Feb. 1. Your payment provides one year of access starting on Feb. 1. After the first year, we'll give you free access at the same level for the lifetime of the product, as our gift to you.
Scenario Design toolkit available Feb. 1
Pre-launch sale
Prices valid until midnight Jan. 31, 2021
US Pacific Time
$795 starting Feb. 1, 2021
$2150 starting Feb. 1, 2021
* Add people to a team license for $625 each ($715 starting Feb. 1). First buy a team plan, then log in and go to "Team leaders > Manage your team." More info.
Your payment applies to one year of access. After that, we'll give you free access as our gift, for the lifetime of the product.
All prices are in US dollars. This is not a subscription. Your card will be charged only once.
Purchasing, cancellation, and refund policy
Create a team of three or more people
You can add as many people as you want to your team.
Identify a team leader. They'll have access to the toolkit. They'll also identify the other team members and see their progress through the tasks.
Purchase one team license. The team leader will then log in and be able to purchase additional seats.
For more, see How does team access work?
Skills you'll build
This toolkit addresses the following action mapping competencies.
o = Addressed at a high level
X = Discussed more in depth with examples, practice, or worksheets
  = Might be new or challenging for conventionally trained instructional designers
Still have questions?
Are there any prerequisites?
How long does it take to complete the toolkit?
Can I produce elearning with the toolkit?
Does the toolkit teach me how to use elearning software?
When will you provide a live course on scenario design?
How is this toolkit different from your book?
Will I get a certificate of completion?
For how long can I access the materials?
What are the technical requirements?
Do you accept purchase orders?
Still need answers? Contact me.