Advice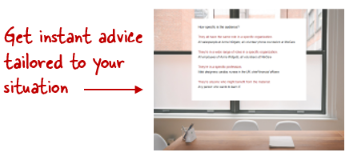 Will action mapping work for...?
What should I do if....?
Get instant answers and advice. You'll find out how well action mapping will work for your project and get recommendations for your situation.
Will you give me career advice?
Do you provide consulting?
How can I become an instructional designer?
Which tools should I use?
Your question might also be answered in the action mapping FAQs or career FAQs.
Customer support
Have a question about the toolkits? Please send us an email using the form below and we'll get right back to you.
Can't find your login email? Click LOG IN in the top menu of this site, click Need a new password and enter the email you registered with. You'll quickly get a link to reset your password and log in.
Guest posts, permissions
Do you accept guest posts?
Can I use your materials in my…
Will you write for our site / whitepaper / report?
Anything else
Still have a question? Send us an email using the form below.
I get so many requests for advice and design ideas that I can't answer them. Please consider asking your question on one of the instructional design groups on LinkedIn, Facebook, or Reddit. There, you'll get quick responses and answers from more than one perspective.
If you're looking for career advice, please see the many resources on this page.