In my previous post, I showed a flowchart that could help you find the best solution to a performance problem. Thanks to your comments and questions, I've improved the chart to make clear two of my opinions:
Training is rarely the solution for low motivation
When training could help, it's best to let learners become motivated through experience (decision-making scenarios) rather than preaching at them (presentations)
First, you might want to download the revamped flowchart. Here's how the motivation bit looks now: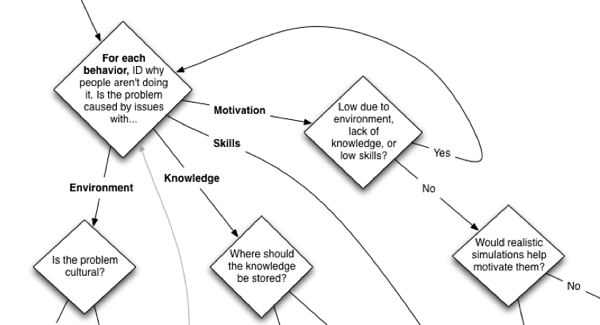 I've added a new loop that sends you back to the main analysis node because low motivation is usually a side effect, not a core problem. It's often caused by one of the other three problems in the chart.
Environment: High pressure, a poorly managed organizational change, user-hostile software, heavy-handed management … these can all lead to low motivation. Training is unlikely to help, unless you can train away the environmental problem, such as by improving managers' skills.
Knowledge: If the employees who do the data-entry drudgery for the TPS reports don't know the painful results of their screwups, they'll be less motivated to avoid errors. For example, we could show them that a rejected TPS record can mean that a client doesn't get the check she needs to buy medication. If this is included in the results of a branching scenario that we're also using to practice entering TPS records, then I'd be willing to call it training. However, if it's just a finger-wagging exhortation divorced from any application, it's not training in my book.
Skills: If I don't have the skill to quickly and painlessly parametize widgets, I will dislike having to parametize widgets. Give me training!
When low motivation can't be blamed on anything else
I've heard several reports of "lazy" workers. "They just don't want to do it," the client says. "They don't care." [Read more…]