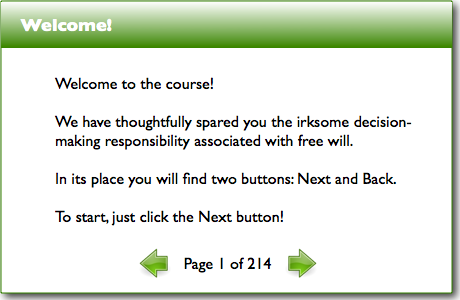 We expect learners to make complex decisions on the job. Then why don't we let them decide how to use a simple course?
Novices need structure. But how should we show it?
Research suggests that learners who are new to a topic benefit from a structured course.
We could easily provide that structure as a menu that lists the topics in the order they should be accessed. A course for novices doesn't have to be a one-way trip through the Next-button tunnel.
What's on the menu?
The usual menu is a text-only list or set of tabs. However, a more visual approach could say more about the course topic and structure.
Here's the menu for a Plimoth Plantation course that helps kids unlearn myths about the American Thanksgiving. The recommended order is clear, and it's also clear that you're going to hear two sides of the story at one point.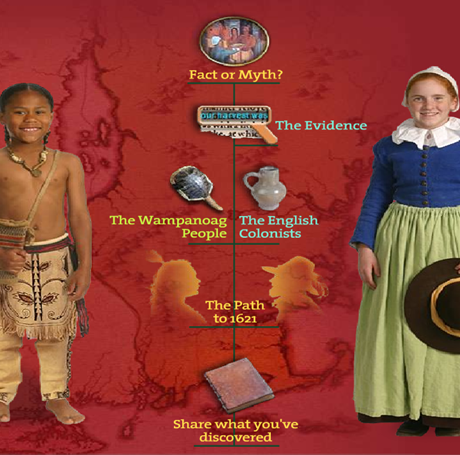 Here are a few other graphics that could become menus:
Timeline
Flow chart
Mind map
The product or item that the course examines
Head shots of people asking questions (each question links to the section that answers it)
Map of a building or place
Game board
If your course is based on a story, you could use easily-identified scenes from the story.
In all of these examples, the arrangement of the images could make the recommended path clear.
It can be easy to do

If you use PowerPoint, you should be able to build a visual menu by creating a menu slide and hyperlinking its images to other slides. If you use a PowerPoint conversion tool, check to see if this approach will survive the conversion. In Keynote, image hyperlinks export to Flash with no problems.
If you use HTML, you could use an image map to link each part of the graphic to its page. Programs for the PC and Mac make this easier.
What do you think?
What are some other graphics that could be turned into menus? Have you done this in a rapid development tool? Let us know in the comments!
Related posts