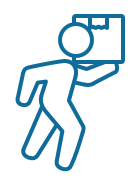 Your toolkit is on its way!
If you're the team leader, you'll get an email with your login information in 5 minutes.
You might check your spam folder.
If you don't see the email after 5 minutes:
Click LOG IN at the top of this page.
If you're new to the site, click "Need a new password."
Buy more seats for this team
The team leader can also buy seats at any time from inside the toolkit.
Add 1 person
$715
Add another person to this team
Add 3 people
$2150
Add 3 more people to this team