No more information dumps!
Map It helps you turn training requests into projects that make a real difference.
You'll learn how to:
Help the client identify what's really causing the performance problem.
Determine the role (if any!) of training.
Create realistic activities that help people practice what they need to do, not just show what they know.
Choose the best format for each activity -- online, completed as a group, on paper, over email...
Provide each activity at the best time -- in the workflow, available on demand, spaced over time...
Let people pull the information they need to complete the activity -- no more information dumps!
Enjoy creating challenging activities that people want to complete.
Show how your project has improved the performance of the organization.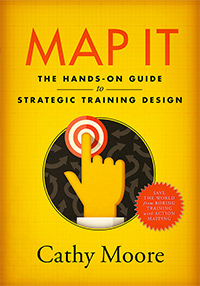 Using humor and lots of examples, Map It walks you through action mapping, a visual approach to needs analysis and training design. Organizations around the world use action mapping to improve performance with targeted, efficient training.
It's all written with Cathy's characteristic dry wit and humour and with a running story of a couple of learning developers in content hell. It's as entertaining as it is informative. - Norman Lamont's review
Kindle and tablets

Read it on your Kindle, or on your computer or tablet using Amazon's Kindle app.
Zoom in to images and tables.
Get your copy
Amazon determines the discounted price. The retail price of the book is $57 US. Amazon will discount this price at their own discretion, which is out of my control. Different sites might show different prices, and these are all subject to change.
How can I get the paper version if I live in...
Australia, Asia: The book is available from Book Depository. I don't know if it will be available from Amazon's India, Japan, or China sites and unfortunately have no control over this.
Latin America: The paper version of the book might become available through Amazon Brazil or Mexico (currently only the Kindle version is listed). You might also try Book Depository.
Everywhere else: If no Amazon site will ship the book to your country, check the countries that Book Depository ships to. The paper book is available through that site at this link.