Coming in 2017:
Map It: The hands-on guide to strategic training design
.
The book isn't available yet. It will be available this year. I'll announce it in the blog.

"We need a course on…"
Tired of being treated as a cog in a course factory? In Map It, you'll learn how to avoid creating yet another ineffective course and instead become a problem-solving hero.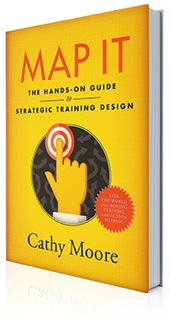 Problem-solvers, not information dumpers.
First, you'll recognize the basic error that everyone around you is making.
Most people who ask us to design training are stuck in the school mindset. They assume that knowledge transfer will solve the problem, and they define knowledge as "information." They expect us to get that information into people's brains. But information delivery alone is rarely the solution to a performance problem.
Map It will help you step into the role of performance consultant, not order-taker. You'll gently help your client look more closely at the problem, identifying the real barriers to performance and finding the most effective solutions.
Finally, if training really is part of the solution, you'll design experiences, not information. You'll create realistic activities that help people practice what they need to do, and you'll make these activities available in the most useful way — not necessarily in a course or training event, and probably spaced over time.
Excerpts
You can read samples of the book here:
Story (PDF) comparing basic action mapping with a traditional order-taking approach
Available in 2017
I'll announce the book in this blog when it's available. If you want to receive an email announcement instead, sign up here. You'll receive one email when the book is available.