Design training scenarios
that your learners love
No course sessions scheduled.
Check out the scenario design toolkit!
No live course sessions are scheduled.
Now you can access a more in-depth toolkit that you can start at any time. You won't have to wait for a course to be scheduled, and you can learn at your own pace.
You'll work on all the skills that are described below, but you'll also have more detailed advice on every topic, with more practice.
This live, online course from Cathy Moore will help you create thought-provoking scenarios that clients and learners love. No more information dumps!
Your scenarios will not only engage learners but challenge them. You'll help them change what they do on the job.
In depth: One-scene mini-scenarios
Overview of branching scenarios
Get the insight you need from the subject matter expert
Write realistic questions and challenging distractors
Help people learn from the consequences of their decisions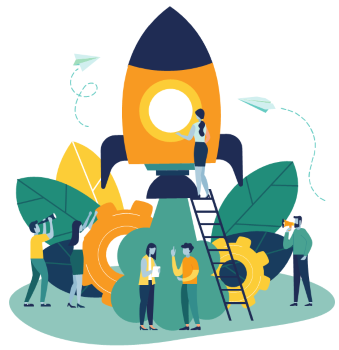 You'll learn by doing over four weeks:
Follow a step-by-step process with downloadable worksheets
Immediately apply what you're learning to a project on your job
Join the four 90-minute online sessions, where group discussion and activities will help you practice new skills
Build your skills with more online activities on your own, including branching scenarios that help you practice talking with your stakeholders
Complete several hours of homework as you apply each step to your real-world project: You'll have 18 practical actions to complete.
Get private feedback from Cathy on your project during the course
Get inspired by trying sample scenarios
Download the included Map It book (PDF) for a detailed walk-through of action mapping
Review session recordings and self-paced materials for a year
Continue to discuss scenario design long after the course in a private LinkedIn group
Applies to any format: You'll learn to create scenarios for self-paced elearning, face-to-face training, virtual sessions, and any other format you can think of. The course will take you from defining and analyzing the performance problem to creating a prototype activity.
Is this for you?
If you design training for adults in the workplace, this course is for you. If you design materials for students in class, the course probably won't apply to you (why not?).
You'll need a project to work on and access to a subject matter expert (SME) for that project. Your prework will include a calendar that will help you schedule meetings with your SME. (What type of project works best?)
Participants have included innovative designers from these organizations:
Amazon
Ikea
Thomson Reuters
Oracle
Volvo
Habitat for Humanity
US Treasury
Citi
Deloitte
Amnesty International
Nestlé Purina
Marriott
Intel
World Vision International
Honeywell
Bentley
Virgin Media
Hewlett Packard
"I'm in a 'happy place' now. Your action-mapping approach, advice, and insight will help me create learning experiences for the right reasons (to benefit the learner!) and articulate those reasons to others. You've helped me find value in my work again. I can't thank you enough!"
No course sessions are scheduled for the rest of 2020.
What you'll do
Plan for strong activities
Identify a change in business performance that your project will help create
Analyze the performance problem and identify where scenarios can help
Win the happy participation of subject matter experts (SMEs)
Analyze the on-the-job decisions so you can write challenging, targeted scenarios
Identify which type of scenario will work best
Write challenging scenario questions
Include the complexities of the real world
Write subtle options that make people think
Create feedback that helps learners build mental models that they'll transfer to the job
Identify which information to include and how to include it
Use scaffolding and other guidance to provide the right amount of challenge
Structure your project so people are immediately engaged and challenged
Create a prototype activity to test on learners and win approval from stakeholders
Plan a branching scenario
Identify the best idea for a branching scenario
Write and prototype a typical decision point
Plot the scenario and test it on your audience
Draft challenging debrief questions to help people transfer their learning to the job
Choose formats and evaluate the project
Consider ways to provide scenarios on demand rather than in formal training events
Choose the most effective media for your needs and budget
Plan to evaluate and improve your project using changes in your performance goal and interviews with learners
You'll create a prototype: The course will bring you to the "prototype one activity" stage on this workflow. Once you've done the analysis and have created a prototype as described in this course, the rest of the process is straightforward.
"Just wanted to let you know that I finally got feedback on the prototype I sent to the client and it's very positive.They've really got on board with the idea, all thanks to your course!"
Course format
No software required: We'll focus on design ideas that can be developed with a wide range of tools. No development software is required, but participants who plan to create a branching scenario will probably want to use a program like LucidChart or Twine to draft their plots.
Lively chat: In the online sessions, we'll complete challenges as a group, such as rewriting a weak scenario question. I'll also ask for your ideas and opinions throughout the session, and you can ask questions at any time, so you can expect a lot of action in the text chat.
Self-paced practice: The course site includes activities that help you practice on a fictional project before you apply what you've learned to your own project. Your materials will include branching scenarios to practice tricky client conversations, video walkthroughs of design steps, and examples of activities to inspire you.
Session recordings: All live sessions are recorded, including the activity in the chat.
Access for a year: You or your team account will have access to the session recordings and online activities for one year from the start of the course.
Discussion forum: Participants and graduates have access to a private LinkedIn group to discuss all aspects of scenario design.
Portable badge: When you've completed all the on-the-job tasks, you'll earn an Open Badge format badge. You can share it with employers and on social media and download a verifiable PDF version (see a sample PDF).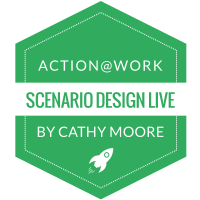 You'll have homework!
This is a hands-on course. You need to choose a real-life project so you can apply what you're learning.
Expect 10 hours of on-the-job application + 6 hours in live sessions: Ideally, you'll work with your subject matter expert for at least some of that homework time.
"I have taken several classes either through my local ATD or local college but always come away thinking, yeah, but HOW do you do it? .... This class showed me how, so thank you, thank you, thank you!"
Get the companion toolkit for 30% off
When you register, you'll receive a coupon code for 30% off the Partner from the Start toolkit.
The toolkit focuses on the initial conversations with the client, giving you in-depth help with the scenario design prework. Use the toolkit before the course begins to set your project goal and help your stakeholders focus on changing what people do, not just what they know.
"I was lucky enough to be able to do your scenario-based learning online course last year, which I thoroughly enjoyed and learnt so much in. I've just completed a SBL project.... 72,000 people have completed the training so far and we've received unsolicited feedback from around 500 users, who had so many positive comments to make about SBL! I'm really overwhelmed by how useful everyone has found the training."
¿Hablas español?
Aunque el curso se da en inglés, me puedes mandar tu proyecto en español. A lo mejor te daré mis consejos en inglés para no hacerte sufrir mi español torpe, pero al menos puedes trabajar en tu idioma.
Skills you'll build
This toolkit addresses the following action mapping competencies.
o = Addressed at a high level
X = Discussed more in depth with examples, practice, or worksheets
   = Might be new or challenging for conventionally trained instructional designers
Still have questions?
What are the technical requirements?
Can I just watch the videos?
What type of project should I have?
For how long do I have access to the materials?
For how long will you provide personal feedback?
Do I get a certificate of completion?
How much time is required?
Can I share the course videos with colleagues?
Still need answers? Contact me.