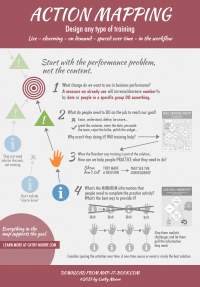 New, prettier job aids for action mapping are now available for free download. They include:
Overviews of action mapping
The "Will Training Help?" flowchart, new and improved
A "Job Aid or Memorization?" mini-flowchart to help your SME see that people don't need to memorize everything
The job aids are designed to accompany my new book, which is now available on Kindle. The print version will be available in mid-October through Amazon in many countries.
Finally, there are still some seats available in the scenario design course that starts October 4. In four weeks of sessions, you'll apply action mapping and scenario design to a project from your job.
There are online sessions for time zones in the Americas as well as Europe, the Middle East, South Asia, and Africa. Check them out!