UPDATE: The new version of the job aid is available for download from this big action mapping graphic.
Original post from May 2016:
I've drafted a job aid that summarizes the entire action mapping process. You can download it as a Word doc here. (Did it download as XML gibberish? Here's the quick solution.)
Use the job aid with your client and subject matter expert to show them the process at a glance, from the initial analysis of the problem to the rollout of the solutions.
The aid is intended to help everyone on a project do the following:
See at a glance what their responsibilities are and when they'll be required
See that your role is not "convert content into training"
Focus on solving the performance problem, not delivering an information dump
Use an agile approach based on prototypes and outlines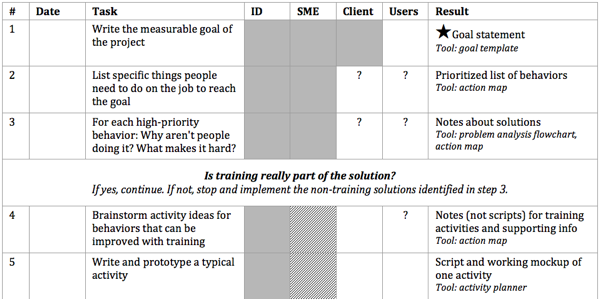 The job aid is a draft. Help me improve it! Please comment on this post with any suggestions you have, or send me a private message.
The job aid mentions some tools you can use at each step. Here are two of them:
Goal template: You'll find the template and some tips in my post How to create a training goal in two quick steps.
Problem analysis flowchart: You can download it and see how to use it in my post Is training really the answer? Ask the flowchart.
I'm working on an activity-design planner that will help you ask your SME the most useful questions so you can design realistic challenges. I'm also working on a template you can use for a project outline, which could replace the traditional and often rigid design document. I'm hoping to release these with the book, and when they're ready I'll be sure to announce them in the blog.
What do you think? What would make the job aid more useful for you?
---
Scenario design course scheduled for November
There are still seats available in the November session of my hands-on scenario design course. The courses usually sell out, so you might want to register now if you can.