By Cathy Moore
A recent study suggests that the common habit of "building" information on a slide can interfere with learning.
The researchers used Camtasia Studio to create two presentations on information security. The audio narration was the same in both presentations. The visuals were the same, too, except one presentation used an average of 3.4 animations per slide to make bullet points, words, or images enter at different times. The other animation had static slides—the information was simply there.
After viewing the presentation, students answered a multiple-choice quiz. Students who saw the flying-bullet-points presentation scored 71.43%, while students who saw the more static version scored 81.98%, a statistically significant difference.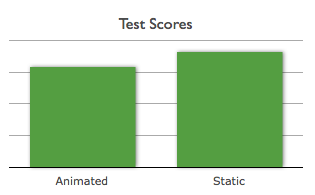 What does this mean?
To me, this suggests that flying bullet points are not only annoying and gratuitous, they're so annoying and gratuitous that they distract from the content. This isn't a surprise.
However, this doesn't mean that all animation is bad. The published study doesn't show the presentation, but the researchers' multiple-choice quiz strongly suggests that they presented simple facts. Here's a typical question from the quiz:
7. Most computer crime is attempted by:
a. Competitors
b. Employees
c. Outside hackers
d. Foreign governments
It looks like learners could have read a cheap and simple PDF to get the same facts, in which case I wonder why the information was delivered as a presentation at all.
Bigger concern: Why use elearning for this?
Too often, elearning is viewed as simply a way to deliver information, and it looks like the researcher's presentation has that goal. But elearning's strength is in its ability to challenge learners with realistic interactions that make them interpret and apply new information. Animation could have a role in such an interaction—for example, it might be needed to duplicate a process in the real world.
I wish the researchers had also tested a short, concise text document, because it looks like that's all they really needed.
If we really just need to deliver information, we can send out an email or a link to an intranet page that presents the facts clearly and concisely. We can then use our elearning tool or LMS for the quiz, and we'll be done in less than half the time it would have taken to craft a slick elearning module—plus we don't have to give a second's thought to whether we should make the bullet points fly.
Related articles
Is a course really the answer?
Common mistakes when writing multiple-choice questions
---
Scenario design TOOLKIT now available
Design challenging scenarios your learners love
Get the insight you need from the subject matter expert
Create mini-scenarios and branching scenarios for any format (live or elearning)
It's not just another course!
Self-paced toolkit, no scheduling hassles
Interactive decision tools you'll use on your job
Far more in depth than a live course -- let's really geek out on scenarios!
Use it to make decisions for any project, with lifetime access
CHECK IT OUT