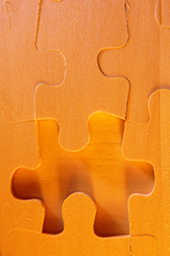 "I don't have all 217 Jubumba Beanie Bops!" your child cries. "I only have 216! I have to have the last one! Just one more! Pleeease!!!"
Your child has been possessed by the Compulsive Completer, a beast that lives in all of us. From deep within our brains, it intones, "Must! Complete! Collection!" The closer we are to completion, the more insistent the demand.
You can harness the mighty force of the Completer to motivate your learners. Here's one way to do it.

Consider offering a series of rewards throughout a course or other linear experience. Each reward builds on the last to create a desirable collection–all of it imaginary.
In a comment to Tom Kuhlmann's post Motivate Your Learners with These 5 Simple Tips, Martin Kopsch describes the approach he took with home loan consultants:
At the beginning of the course they were given a floorplan of a 3 bedroom house. No furniture, fittings, finishes. At various stages during the course the learner was rewarded by being offered options of furniture, kitchen appliances, bathroom fittings, etc. The final reward, at the end of the course, was a virtual car in the virtual garage. All these "rewards" cost absolutely nothing, but a sense of competition quickly developed amongst learners: Result? Every one got a virtual car, ie 100% completion rate.
When a house is incomplete, it's obvious–and the Compulsive Completer complains loudly. Any physical project will clearly show its incomplete status and motivate learners to finish it. What kind of imaginary project or collection would inspire your learners?
Experience instead of stuff?
If you don't want to offer your learners a collection of imaginary stuff, how about some imaginary experiences? Let's say that your organization has 9 locations around the world, and your course covers a topic related to this globalization. You could try something like this:
Tell your learners that they will be taking a trip around the world, stopping at all 9 locations and having an adventure at each one.
Show them a map with the locations identified and none of them marked as visited.
When a learner earns the first reward, send them to the first location. Show them a photo of an appealing staff person in that location and in one engaging paragraph describe a fun local adventure (or mis-adventure!) that the learner enjoys with that person.
Maybe give the learner an imaginary souvenir from that adventure, and mark that spot on the map as visited.
Offer choices to increase involvement
To involve your learners more, let them choose something about their reward at each step. For example, give them a choice of carpeting styles, including something fun like hideous orange shag. Or if they're on a world tour, let them pick an adventure at each location.
Or turn the whole thing into a story
Of course, you won't need separate rewards if you can make the entire course a story and use plot devices to make learners want to know what happens next.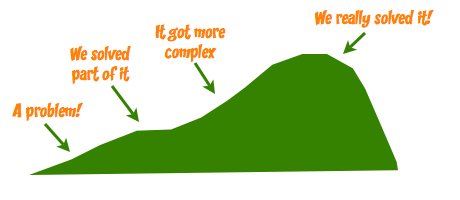 What are some other ways in which you can make an incomplete course practically demand to be completed?