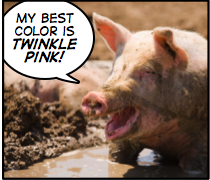 Which of the following requests do you hear more often?
"Please help us find the best instructional approach."
"Please put this material online and make it look good."
If you hear B more often than A, you're not alone. I posed this question to participants in the eLearning Guild's recent online forum, and most people chose B.
One participant was asked to "put lipstick on the pig" (from the idiom, "You can put lipstick on a pig but it's still a pig.").
"Our term is the 'make it pretty' people," another participant said.
Cosmeticians on strike!
Some existing materials can go online and be effective with only some tweaking. Often, however, existing materials need more than cosmetics–they need surgery. How can we convince stakeholders of that?
Here are four ideas, but I'll need your help to find more solutions.
1. Focus on activities, not information
To help avoid information dumps, you might take your stakeholders and SMEs through the following steps:
A. Identify the business goal–specify in concrete terms how the business will benefit from the project.
Example: "Mega-widget sales will increase 6% by Q3."
B. Identify the real-world behaviors people must take to reach that business goal.
Example: "Identify which mega-widget will best meet each customer's needs."
C. Brainstorm activities that will help learners practice the real-world behaviors.
Example: A fictional customer explains what they need. The learner selects the best mega-widget and defends their choice.
D. Identify the minimum information the learners need to complete each activity.
Example: To complete the activity, the learners need to know the features of each mega-widget and what benefits each feature brings.
E. Cut everything else.
Example: Delete the history of widgets, detailed information about mini-widgets, and the flowchart showing the widget parts supply chain.
This approach emphasizes practical activities, not information, and it encourages you to cut everything that doesn't directly support the business goal. Most existing materials use the opposite approach–they have a vague goal, provide too much information, and have few, if any, activities.
If you make the above approach your standard and take everyone through it, stakeholders might understand when their materials need to be overhauled.
In future posts, I'll go into more detail about each step.
2. Don't let SMEs create PowerPoints
As forum participants pointed out, subject matter experts (SMEs) spend a lot of time choosing their words and images, so naturally they don't want things to be changed. This increases the pressure to simply put their work online.
One solution: Ask SMEs to do an informal "brain dump." Encourage them to type a Word document without fancy formatting, speak into a voice recorder, or (possibly best) let you interview them. Point out that this will take a lot less of their time and will probably capture more information. The benefit to you: SMEs will feel less ownership of the materials, leaving you free to find the best instructional approach.
3. Show stakeholders sample activities or courses
To get people to focus on activities rather than information, mock up some sample activities or show them existing ones. You might find some ideas on the elearning samples page.
4. Arm yourself with research
Books like e-Learning and the Science of Instruction and Efficiency in Learning will help you keep conversations focused on instructional value, not personal taste.
5… What else?
What has worked for you? How do you help stakeholders understand when a quick conversion isn't the best solution? How do you encourage SMEs to collaborate with you as consultants rather than authors? What else have I missed? Let us know in the comments!
Photo: ©iStockPhoto/ZE14361