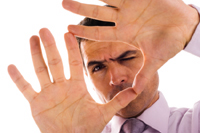 Want to develop your ability to show abstract ideas? Find inspiration at these unusual sites.
Le Grand Content: PowerPoint, death, and hamsters
This short video takes typical PowerPoint visuals into quirky philosophical territory. According to the artist, Clemens Kogler, "Intersections and diagrams are assembled to form a grand 'association-chain-massacre' which challenges itself to answer all questions of the universe and some more. Of course, it totally fails this assignment, but in its failure it still manages to produce some magical nuance and shades between the great topics death, cable tv, emotions and hamsters."
What are some ways you could use similar "absurd" visuals in your next elearning project?
Indexed: life condensed onto a notecard
In this blog, Jessica Hagy sketches graphs on index cards–but these aren't your typical graphs. Check out my favorite to see what Ambien, snack machines, and black widow spiders have in common (click the graph to enlarge it). What are some relationships you could show in your next project?
Billy Collins Action Poetry
Several visual artists interpret the poetry of Billy Collins, former US Poet Laureate. Here's my favorite. It helps that Collins uses a lot of imagery in his writing. What are some ways you could incorporate visual metaphors in your text and make it easier to create images?
A little closer to elearning
Kathy Sierra's "Creating Passionate Users" blog has closed, but she compiled her favorite graphs here. And over at Tony Karrer's blog, there's a lively discussion in the comments for his post "VizThink and Visual Thinking and Learning – Still Not Sure."
Did you see useful ideas in these links? How do you find visual ways to present abstract ideas?
Photo ©iStockphoto.com/izusek