It's common to assume that you should have a narrator read text to the learner. However, this could
hurt learning
in three ways:
Increases cognitive load: Learners will read more quickly to themselves than your narrator can read to them. Research suggests that this sets up a distracting echo that interferes with learners' ability to process the information.
Takes control from learners: A narrator can force learners to move at the narrator's pace. Research shows that learners do best when they control the speed.
Weakens motivation: Reading text to adult learners could suggest that you see them as children, not as capable adults. (My opinion only; if you know of any research into this, please let me know.)
Some recommendations:
Cut text. Most online courses I've seen would benefit from losing at least a third of their text. If you feel you must present a lot of text, consider providing it as a printed job aid.
Don't read text aloud unless you know that your learners have trouble reading to themselves.
Narrate complex graphics and don't include redundant text.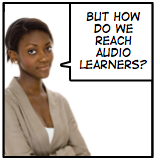 Research doesn't support the popular idea that we should cater to different learning styles. However, research does show that reading printed text to learners hurts their performance.
Your safest bet is to let learners read on their own but use audio to describe complex graphics. It's also good practice to present the same ideas in different ways–just not simultaneously.
---
Learn more
Build your performance consulting skills
with new tips and content for teams
Stop being an order taker and help your clients solve the real problem. The Partner from the Start toolkit helps you change how you talk to stakeholders, find the real causes of the problem, and determine what type of training (if any!) will help.
The toolkit has recently been expanded:
Many new examples as mini-practice activities (more than 50 total)
New tips for writing goals, actions, and analysis notes
For team leaders:

125 discussion questions — download the customizable PowerPoint deck
Tips for coaching new action mappers and embedding the practice in your organization
Sign up yourself or a team, with team discounts. Learn more.