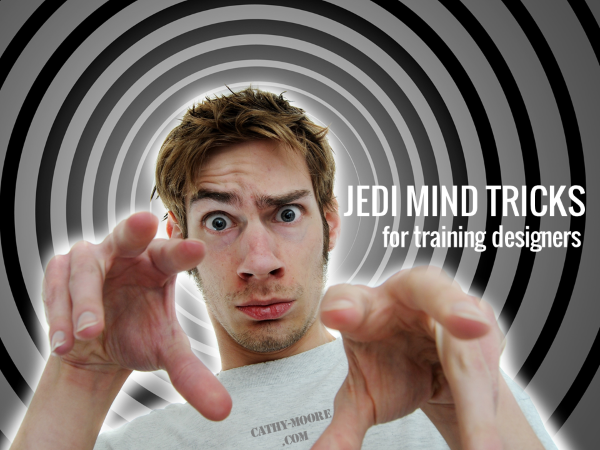 You can control your clients' minds! Sort of.
Your client thinks training will solve their problem, but they haven't even defined the problem. Your subject matter expert wants you to present their favorite content, but you suspect it will just waste time. What can you do?
You can magically control their minds!
By changing how you talk to stakeholders, you can steer them away from an information dump and toward targeted solutions that solve problems and improve lives. You'll stop being an order taker and move toward performance consulting.
January 23, 2019 — Asia & Pacific
1.5-hour online workshop

You've missed the live session, but you can access the recording below.
You're in charge
We'll focus on the initial conversation with the client, identifying specific actions you can take and words you can say to put the project on the best path. We'll discuss:
Why so many stakeholders think our job is to present information
What exactly you should say to keep the initial conversation focused on the performance problem, not the "course"
The 8 words you should never say in the first meeting with your client
How to get the client to agree to a second meeting to analyze the problem
The two questions you need to research to prepare for that meeting
How to set and control the agenda for the meeting
The three questions that will help your client create a specific, measurable goal that will focus everyone on performance, not content
How to use "outsider" questions to help the client see for themselves whether the training they imagined is really the best solution
Why you shouldn't write traditional learning objectives, and what you should write instead
How designing activities, not information, lets you break free of courses and help people practice when they need it most
Access the 1.5-hour recording and handout
The workshop is over, but you can view the lively recording. You'll also be able to download the detailed handout, which has the key slides, additional in-depth tips, and links to resources to help you keep learning on your own.
You'll be able to review the recording for a year from your date of registration.
Recording and handout
US $95 per person
Sign up 3 or more people from the same organization
in the same transaction to get a 10% discount.
Cancellation and refund policy
View cart


How to access the materials
Pay with a credit card: You or your purchasing staff should click the "Add to Cart" button above to pay with a credit card. Sorry, it's not possible to use purchase orders or other types of payment.
Choose your login name and password: The person who paid will get an email that has a link. Use that link to create a login for the workshop site. If someone else has paid for your registration, they should forward the link to you.
Skills you'll build
This workshop addresses the following action mapping competencies.
o = Addressed at a high level
X = Discussed more in depth with examples, practice, or worksheets
= Might be new or challenging for conventionally trained instructional designers

Presenter
Your facilitator will be me, Cathy Moore. You can learn more about me here.
Still have questions?
I'm not in the region. Can I still attend?
I can't attend. Can I just see the recording?
When are you giving this workshop again?