It's easy and tempting to write activities that test whether learners know something. How can we make learners use their knowledge as well?
You might be familiar with Bloom's Taxonomy. Its current form identifies six categories of intellectual performance, from remembering to creating.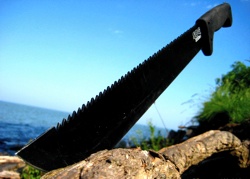 To make the taxonomy easier to apply, I grabbed my Unsubtle Machete of Oversimplification and in a few whacks reduced the categories to just two:
Know activities ask learners to retrieve and maybe categorize or explain information.
Use activities ask learners to apply information to realistic situations.
Often, a "use" activity includes a test of whether the learner "knows" something — you get two activities in one!
Example
Your learners create widgets. To speak with their coworkers, they need to know some technical terms. One term is "transmogrification," which means modifying a widget so it will work at high altitudes. What can we do to help learners master this term and the related concept?
Know activity: Drag the term to its definition — drag "transmogrify" to "modify a widget so it will function at high altitudes"
Use activity:
Your client wants to use their widget at 2800 meters above sea level. What modification do you need to make to the widget?

Transmogrify it
Redorbinate it
Neoplyordinize it
No modification needed
The "use" activity tests whether the learner can apply their knowledge of transmogrification in a realistic situation, not in an abstract definition activity. At the same time, it answers three "know" questions for us. It tells us whether the learner knows that: [Read more...]