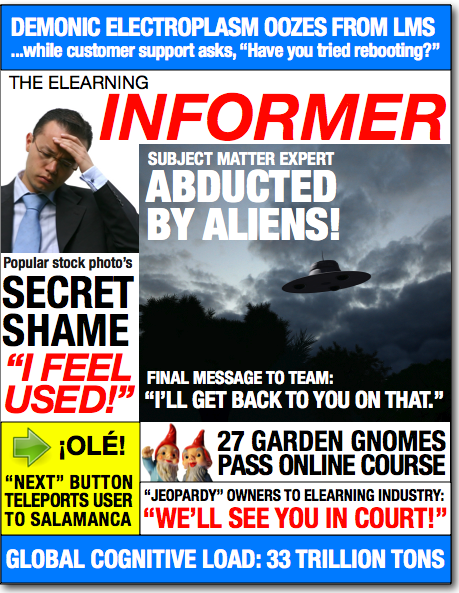 Are you brave? Try some humor and bond with your learners. Here are a few tips that might help.
This post is a short online course created by lolcats. Note how they often use questions to engage the learner. If your feed reader strips out Flash, click the post title to see Wurld Dominayshun: Module 1 in all its glory.
Tool: Keynote
1. I opened a course on a topic I know nothing about, clicked through without reading anything, and took the assessment. I passed! What does that suggest?
I am a genius!
The assessment was too easy.
Maybe the course was too easy, too.
Maybe the course didn't even need to be written.
b, c, and d
2. In a multiple-choice question, when is the longest answer the correct answer?
Rarely
Sometimes
It's almost always the correct answer, and it's often stuffed with new information that should have gone in the main part of the course but we forgot so now we're putting it in the quiz because we can't possibly leave out the tiniest detail
Occasionally