Branching scenarios can be a pain to design. Happily, you can use a simple tool called Twine to easily draft the scenario and produce it. In this post we'll look at a scenario that I wrote to demonstrate Twine's basic features and to make a point about teaching through stories.
In the scenario, you're a journalist in a hurry to get to a hot story in Zekostan, and your "guide" can't speak English or drive. You have to quickly learn the necessary Zeko terms to navigate the roads and respond to events along the way. The scenario was inspired by a language-learning activity designed by Kinection.
Try the activity, keeping in mind that it's a casual, unfinished experiment. Then come back here for more about Twine and my design decisions.
Twine
Twine works in Windows and on the Mac, it's free, and it publishes scenarios in easily customized, accessible HTML. It's based on TiddlyWiki, a lightweight information management tool.
Each scene in a scenario is really a small record in a wiki database. The links you create determine the path that the learner takes through the records. Thanks, Steve Flowers, for pointing out Twine in the Articulate forum.
Here's the flowchart view, which Twine automatically creates as you link your scenes (click for a bigger image):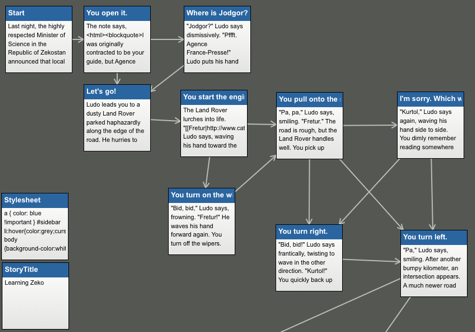 Twine offers some advantages over other ways to write scenarios. You can:
Quickly switch between flowchart view and story-editing mode
Link scenes using simple text
Add images and sound files and otherwise use HTML
Export the story in text format for review and proofing
Publish the finished story in HTML
Use simple codes to keep track of variables or limit learners' choices (not shown in the sample scenario)