Often we're told, "Put this information into a course." But what happens if we put the information into a job aid instead, and then design mini-scenarios that help learners use the job aid?
This approach not only keeps boring blather out of our elearning, it can also make our activities more memorable. Here's how it could work.
Example
Let's say we're designing a course on needle safety for a hospital. A common approach would be to display some slides of information about dos and don'ts, and then to present a generic fact check, like, "What's the best way to dispose of a used needle?"
Instead, we'll plunge our learners directly into an activity that somewhat simulates real life and that includes real-life job aids. So here's the first thing learners see in this module.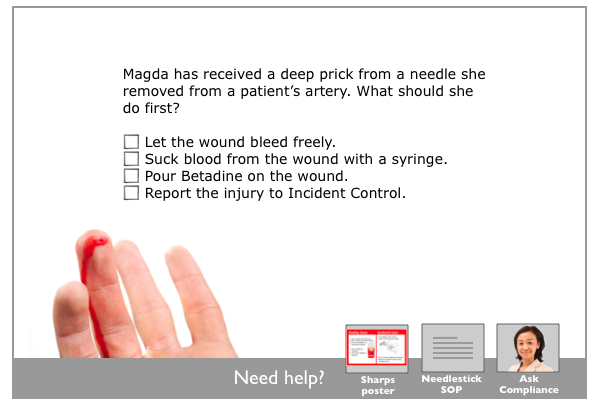 We're tempting the learner to respond without thinking, but we've also given them access to more information. For example, the learner could click the first thumbnail to see the safety poster that appears in every examining room and that explains what to do with a needlestick injury.
But our sample learner thinks, "Everyone knows you pour Betadine on that kind of wound," and they choose that without looking at any other information.
Here's the feedback we give them. [Read more...]